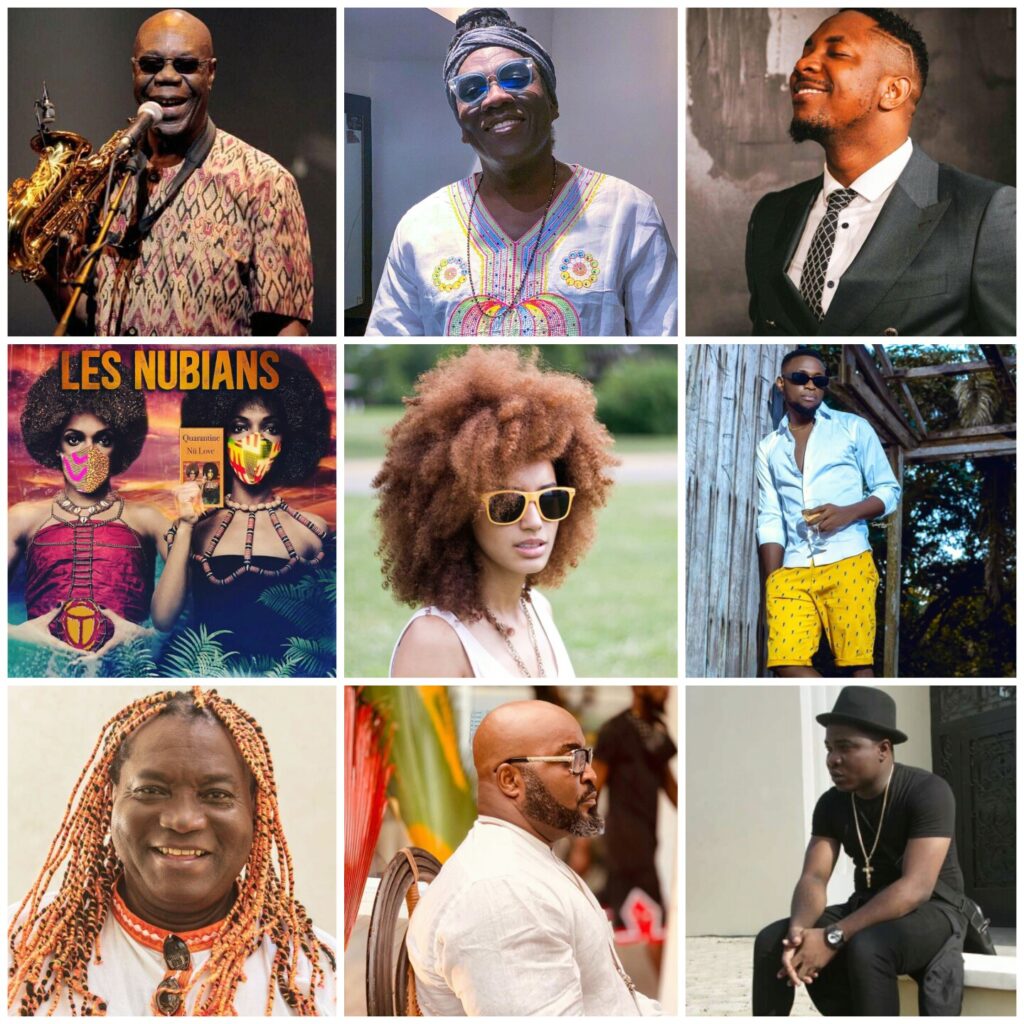 1. MANU DIBANGO
In 1974, Cameroonian saxophonist Manu Dibango of blessed memory became the first Cameroonian to be nominated for the Grammy Award. His 1972 hit "Soul Makossa " was nominated for Best R&B instrumental performance and Best instrumental Composition . In 1982, Michael Jackson plagiarized a snippet of Manu's monster hit in his album "Thriller" . This was settled out of court.
In 2007, Rihanna also copied in her song "Don't stop the music ".
2. WES MADIKO
In 1997, World music icon Wes Madiko made Cameroon proud when his song "Welenga" peaked at Number 5 on music charts in Australia and France respectively. "Alane" was #1 in Australia, Belgium, France and The Netherlands .
In 1998, "Youpendi" was used as soundtrack for Disney's "Lion King II" : Simba's Pride.
He was nominated for Grammy in 1998 with over 15 million copies of album sales.
In 2002, his song "Awa" was used as soundtrack for the  movie "The Wild Thorn berry" .
3. RICHARD BONA
Richard Bona has sold out shows across the world and celebrated by renown musicians and millions of fans.
In 2003, Richard Bona was nominated for Best Pop instrumental performance with his song "As it is" at the Grammy Award.
In 2007, he won the Grammy in the categories Best contemporary Jazz Album and Best contemporary World Music album with "Tiki" .
4.  GOLDEN SOUNDS (ZANGALEWA )
The Cameroonian music group created in 1984 by Guy Dooh and Jean Paul Ze Bella released and  popularized the song "Zangalewa" in 1986.
This song proliferated across the world and in May 2010, Shakira plagiarised the melody , copied snippets of the lyrics and made it an international hit . Cameroonians were proud of the song's origin.
5. KROTAL
Krotal has made emphatic contributions for the evolution of the urban music scene in Cameroon. He did his first rap song in 1989.
He was the first to collaborate with a member of Destiny Child before Salatiel. In 2010, Krotal collaborated with Kelly Rowland, 2 Face and Didier Awadi on the song "Everywhere you go".
6. STANLEY ENOW
The "Bayangi Boy" got the entire nation behind him when he released "Hein pere" in 2013 . His historic win of the Best Revelation Category at the MTV Africa Music Awards 2013 made Cameroonians proud. He is the first and only Cameroonian to have won an MTV Africa Music award.
7. FRANKO
Frank Kingue Junior released an internationally acclaimed hit "Coller la petite" which has hoarded a record-breaking  60.000.000 views on Youtube . in December 2016, the song sold over 75.000 copies in France and clasped the highly coveted  "Disque D'or". Franko has been celebrated on international media platforms, marking a milestone in his career.
8. ANDY ALLO
US-based Cameroonian singer Andy Allo was born in Bamenda. She is the only Cameroonian who collaborated with multi-award singer Prince.
In 2011, she joined his band "The New Power Generation Band " as guitarist. They both collaborated on 3 songs " Super conductor", "The calm" and "Long Gone".
9. SALATIEL
Alpha Better records  producer and singer extraordinaire Salatiel took Cameroon by storm in July 2020 with a collaboration with worldwide superstar Beyoncé on the "Lion King " album. "Water" feat Queen Bey and Pharell William has become an international hit. Salatiel is the first and only Cameroonian to sing on a musical project with Beyonce.
10. NUBIANS
The duo have proudly represented their country of maternal origin Cameroon on international stage.
In 1999, The Nubians were nominated for Best Revelation in Soul music at the US Soul Train Awards . In 2004, their album "One step forward" was nominated for Best Alternative Urban R&B at the Grammy Award.
WORTHY MENTION:
LOCKO
Arthur Locko has always made Cameroonians proud with his sultry voice.
In June 2017, Locko brilliantly represented Cameroon at Coke Studio Africa, held in Nairobi , Kenya. He collaborated with Jason Derulo in an electrifying performance.
IRMA
France-based Cameroon has been brandishing the Cameroon flag on international stage. She was born in Douala .
The 32-year-old who is signed to My Major company and Universal Republic featured on Google Chrome ad in January 2012 and 2013 with the song "Letter to the Lord" . Same year, she won MTV Europe Music Award.
Her single "I know " has been one of the best sellers on ITunes.
Written by #Nexdim
www.nexdimempire.com