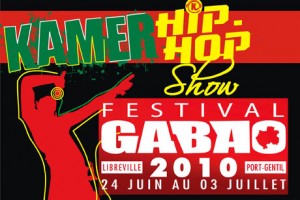 If you are a hip hop group or artist and you wish to represent the centre region at the Gabao Festival in Libreville, REGISTER NOW.
The 4th edition of Kamerhiphop Show will take place on Saturday 24th April 2010 at Centre Culturel Francois Villon in Yaounde.
Unlike the usual concert,the public will have the opportunity this time to witness a battle for supremacy between the ten competitors.The winner shall represent the region at the Gabao Festival at the Gabonese economic capital Port Gentil.
This competition dubbed "Prix Gabao 2010" has a goal to encourage the musical creativity in Central Africa.The winner will benefit from a massive media exposure and a tour in Central Africa.
Registration
The competition is open to upcoming and  professional hip hop (rap,ragga,r n b,soul,slam) artist/group.
-Should be of  Cameroonian nationality.
Here are the conditions:
-A complete package of 3 original songs in a CD
-Two photos.
-Duly filled registration form (downlaodable)
Note:Laurettes of Gabao Festival are not allowed to compete.
The latest date to deposit your documents is April 10th 2010.
Deposit your documents at French Cultural Centre,Yaounde or call 99 57 74 29
Download :
Authorisation Form
Registration Form
Rules and regulations
http://www.kamerhiphop.com/ftp/gabao2010/reglement_prix_gabao_2010.pdf
Official website: www.kamerhiphop.com