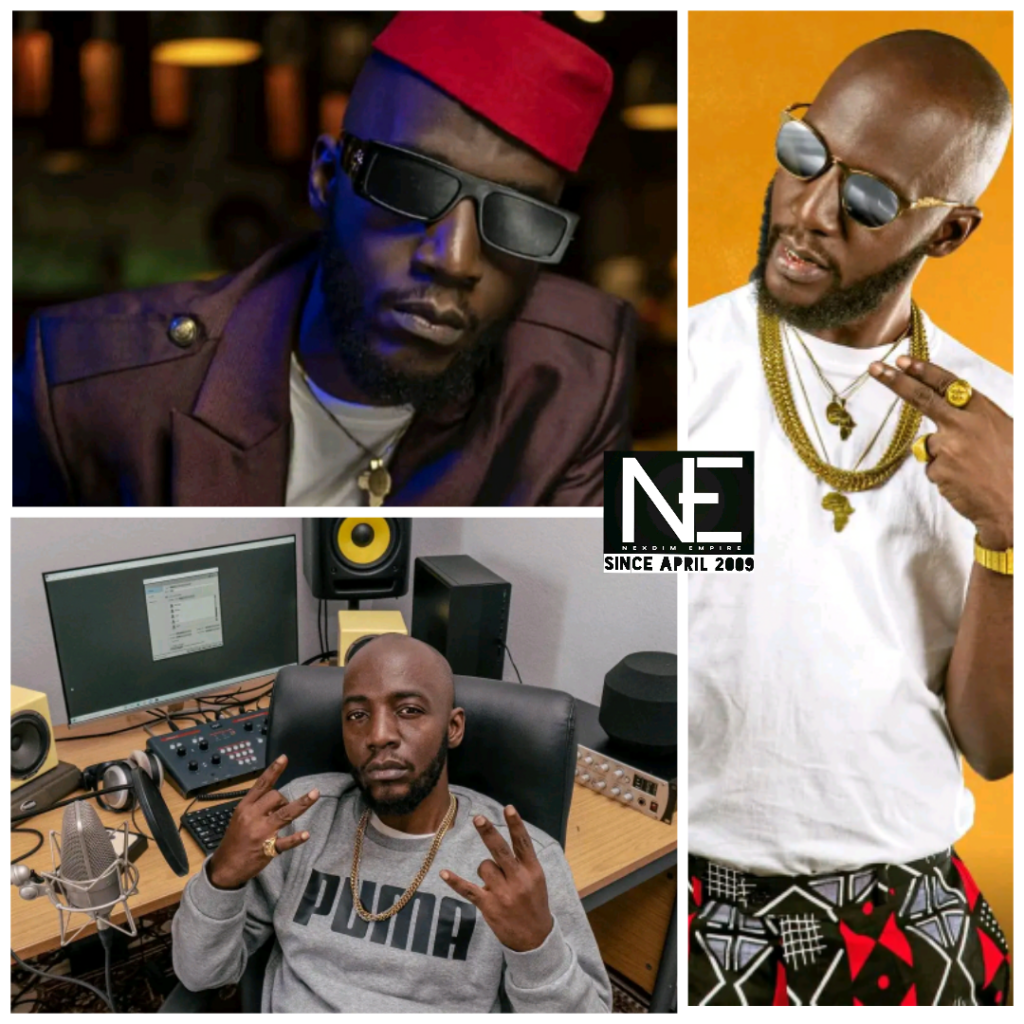 Name: Ndukong Godlove Nfor
Stage name: Jovi
Former stage name: Syke
Pseudonyms: Le Monstre, Mboko god, Vizu
Fanbase: Mboko Gang
Profession: Producer, rapper and songwriter
Biggest hit: Cash ( met l'argent a terre)
Biggest production: Reniss – La sauce (13 M YouTube views
Date of birth: 24 October 1983
Place of Birth: Douala
Origin: Ndu (father) and Tabiken (mother)
Record Label: New Bell Music
Music Production Influence: Dr Dre
Artists under New Bell: Tata, Ishaku, DJ Mathematik, RCHL
Former label: MUMAK
Schools attended: Sacred Heart College, Douala, Cameroon College of Arts, Science and Technology, Bambili, University of Yaounde II,
SAE Sound Engineering School in Bangalore, India.
Qualification: Bachelor's Degree in Economics, Diploma in Sound Engineering (Music Production major
2011: Released "Don 4 Kwat" ,"Fight" featuring DJ Chuuks, Bisha , Sine
2011: Collaborated with Wizkid on "Pon it" (Unreleased)
2012: Pitie, Too much featuring MAGASCO videos
First biggest show: 12 th December 2012 in Buea
2012: Released debut album "H.I.V" (Humanity Is Vanishing) comprising 2 Much feat. Magasco, Nothing to Something feat. DeeCy & Shey, Bush Faller feat. Eko, New Star feat. Crisley & Jade, You Never Know feat. Shashan, All I Have feat. Elad, Achombo House feat. Krotal, Hater's Coffin feat. Rachel Applewhite, Pitié feat. Tabu Ley Rochereau, H.I.V feat Reniss, Don 4 Kwat, Man Pass Man and Lapiro
2013: Created New Bell Music with Rachel Burks
2013: Released Kankwe Vol. 1 EP comprising Fufu With Njap, André – Marie Tala, Kamer Coke feat. Daddy Black, BWAM, MBOKO
2013: Released "Mukwatta"
2013: Produced Reniss' EP AfriKan LuV
2014: Released "Cash" (Mets l'argent à terre), Et P8 Koi (No. 1 on Trace Urban's Hip Hop 10 Made in Africa), BASTARD video
2015: Released "Mboko God" album comprising "Comme Moundi" feat. Shey, Mboko God, Reality featuring Reniss, Jungle Book featuring Shey, Mboko God – Positioning (feat. Shey , Tilla , Reniss), B.A.S.T.A.R.D (feat. Reniss) Nyongo Money, Abracadabra, Beat Tape Sessions (feat Tilla , Teddy Doherty , Inna Money), Man Pass Man Part 2, Et P8 Koi, CASH, Mboko God – Status, Top Level
2015: Produced Reniss' EP Milkish
2015: Released "Raps 2 Riches" EP comprising "16s", "Two Riches", "Zélé" " Raps"
2015: Released "Puta Madre" EP comprising"How Many So Many" ft . Pascal, Nencho, Bend Down Work, Help Me Help You ft. Tata, New Year New Place
2015: Released "Bad Music" EP comprising "Bad Music", Bad Influence ft. Reniss, Mongshung, Best of Me ft. Pascal, Volvo
2015: Released " Kankwe Vol. 2″ comprising "Et P8 Koi", Big Vulture, Check Sense, Cash ( Mets L'argent à Terre ) , Ncnp
2015: Produced Tapsi EP by Shey
2015: Produced Milkish EP by Reniss
2015; Produced "Lord Have Mercy" EP Pantana ft. Shey and Reniss, Jovi — Charger, Pascal — Horsepower ft. Shey, Reniss — Lord Have Mercy ft. Tilla, New Bell Music — Et P8 Koi 237 Remix ft. Tilla, Teddy Doherty, Mic Monsta, Zayox, Inna Money, Pascal, and Dareal
2015: Released "Zele" video
2016: Released Single "Why God" , 24 hrs in Libreville
2016: Co-wrote and Produced "La Sauce" by Reniss
2016: Produced "Shine the light" for Akon
2016: Produced "Work Dey", Volume 2 Prelude by Pascal
2017: Released "16 Wives" comprising How Many So Many, Workmanship, 50-50, Chubacca, No Man On Est Bien, Mad Love, Hospital Bills, Man Pass Man Pt . Tom Yoms, Sux, Mongshung, Free Music, Tchana Pierre, Ou meme, Slave ships, Why God
2018: Released "Pimentcam", Depanner
2018: Produced "Wildfire" EP for Tata
2017: Released "Yaje Vol 1" comprising "20 BA, Devil No Di Sleep, Above, Jengu
2019: Released "God di Cam" EP comprising Nivaquin, Hand 2 Mouth, Ma 18, Pay Attention ( Freestyle ), Ndolé, Up Dey, All the Time
2019: "God Don Cam" EP comprising "Man Pass Man" pt 4, Pissam, Ouleu, Devil No Di Sleep, Sok Sok, Jengu Feel Me Feel Free, God Don Kam, Ndolé, Versus Verses, Tchak, 20 Ba, No Peace
2019: Released "Big Bang" , On a vu feat. DJ Mathematic
2020: Released"Raps 2 Riches" 2 comprising Force2wreckonwit, Money iz Sexy ft . Tata & Ishaku, Mentality, Into, Lost Riches
2020: Released "Mentality"
2020: Released "YAJE Vol. 2: Sun Yellow" comprising Strong Enemies, OG Raps, Truth,
Free Music pt2
2021: Released "Strong enemies" video
2021: Released "Servo"
2021: Released "Pressure" EP comprising Pressure (feat. Ishaku), Full Effect (feat. Mamiso), Na Who 237% (feat. Tata) Ipso Facto
2021: Released the mixtape Young Vizu Annointed Mboko Supreme
2023: Released "WLK D TLK" EP comprising BIG TALK, SOME CORNER, CA SERRE, FACE IT, KEEP WALKING, MBOKO NOSTALGIA, missing lyrics, WALK WITH ME
2023: Released "J'achete"
INTERNATIONAL ACTS HE HAS WORKED WITH: Wizkid (Pon it) , Akon
COLLABORATIONS:
2011: Sine – Koh Koh
2012: Magasco – Line Loba remix
2015: Reniss – Michael Jackson
2016: Pascal – Makero
2016: Krotal feat Jovi, Final D and Reezbo – Generation abandonee
2018: Reniss – Nightlife
2018: Tata – Banekeh
2019: DJ Mathematic – Glissement
2019: Ambe – Don't Go remix
2020: Tilla – A meh minah
2020: Ishaku – Samira
ACHIEVEMENTS; AWARDS WON, NOMINATIONS
2014: No. 1 on Trace Urban's premiere episode of "Hip Hop 10 Made in Africa
2015: Nominated Best Francophone artist at the MTV Africa Music Award (MAMA)
2016: Nominated for Best Album (Mboko God) Kora Awards
2016: First Cameroonian artist to feature on The Fader, a New York-based music magazine.
2017: Top 5 most streamed on Apple Music Africa.
2020: Muzikol Awards for Best EP
BRAND AMBASSADOR DEALS
2021: Brand Ambassador for Hennessy
2022: Brand Ambassador for Johnnie Walker
Brand Ambassador for Frenchkind
INTERNATIONAL APPEARANCE/PERFORMANCE: Germany , Gabon , Uganda
RELATIONSHIP STATUS: In a relationship with Mimi Eno
Children: 1 (Yajé)
FACTS: JOVI is a trendsetter with the biggest discography of all-time in Cameroon urban music history.
By NexDim ©?
#nexdimempire