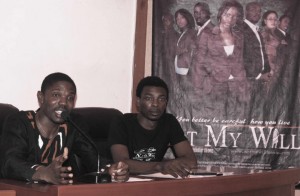 25 minutes of the thrilling and action packed movie "NOT MY WILL" was premiered on a giant screen at the Muna's Foundation on Friday 30th April 2010 in the presence of about 12 media houses and a great number of fans.The panel which constituted the producer and director Wegmuller Efokoa,the marketer Laye,actress –Eka Christa and Chi Chi who is the representative in Yaounde clarified doubts and answered a series of questions posed about the movie and the release month which is June 2010.
ABOUT THE MOVIE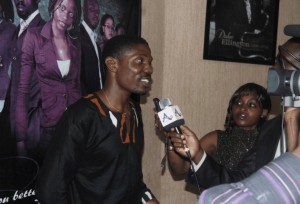 Not My Will is a movie which depicts the perils faced by youths, especially in university environments. At the beginning of the movie, the protagonist, Nalo, is distressed by a very disturbing dream which plunges her into the hands of Simon, a 'successful' scammer who dazzles her with his ill-gotten riches and flashy lifestyle. Unable to resist, she is dragged into a world of ostentatious living without any knowledge of the source of these riches. This causes her relationship with her boyfriend, Weg to undergo some strain. When she finally finds out the source of his money, she is appalled and she humiliates him publicly. Simon is infuriated and is determined to get his dignity restored at the expense of Nalo.
Not My Will is also packed with musical performances by a great variety of artists in a live musical concert featured in the movie. This movie is a must-watch for all families and all music lovers.
http://www.notmywillmovie.com/en/
SAVOUR THE TRAILER!!!