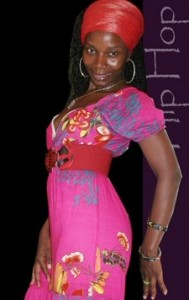 When she arrived in the world of  "Hip Hop Kamer" in the early 2000s, some saw her as the "Cameroonian Diams" .
This is necessarily because she is talented and her irresistible skills  has  influenced  the trail of Rap music in Cameroon tremendously:
'Diams is  a big sister that I respect a lot, I like what she does".
She however imposes a strong charisma like Diams.

Lady B's  first album was titled "ma colere".
She is best known in Cameroon for starring in a PMUC Advert and a face of Le 6, a PMUC option. "je vais win, je ne vais pas loss … il ya le dor agogo" .Hope this rings a bell.
Obounou Rosine Mireille aka Lady B was born,  March 11th 1984 in Ebolowa, South of Cameroon. With a grandfather who was a songwriter, a guitarist father, her path was virtually mapped out. Before reaching the age of 15, the young Obounou was already a solicited hip hop dancer  in the nation's capital, where she studied;
She stopped secondary school prematurely for lack of funds.  With her PEBC she started doing music. She began working with hip-hop groups of Yaounde in 2002, competed in the " Coca Cola Dream" which aimed to identify young talents in Cameroon. Her talent was immediately recognized and she was among the five winners of the competition, and part of  the Dream compilation released in 2003. This opened the floodgate of her showcase and adventures.
She took part in the Hip Hop Summit in Johannesburg and Soweto (South Africa) in 2004 -2005,  in Dakar, Senegal for Hip-Hop award, Benin for Hip Hop Kamgpe and Gabon for the  Gabao Hip Hop festival where she was best Female Hip Hop artist in Central Africa.
In 2007, she returned and participated in a musical workshop alongside the Nubians, Naneth … The same year, 2007, she was invited to represent Cameroon atla nuit de la musique  in Gabon, an event organized by the Fondation IBISS Bongo with 72 artists participating, including Viviane N'Dour, Medhy Custos, the rapper Lord Kossity and  Eve.
Asked why she does rap, Lady B responds "it is the surest way to express what I have inside me." influenced by  Erika Badu, Lady Lesty,  Sally Nyolo and  Annie Anzouer.
Rap and nothing else
The Beti lady's  second album was released in December 10, 2008, two months before the birth of her second child, a boy whose father is the makossa singer Eriko who was involved in a ghastly accident.
The album was released under her own label, created in 2006, K 'Intertainment,9 songs for a musical revolution that was much needed and where we note the participation of artists such as  Kazam la Flamme and the group Kunde Yala.
In addition, the group consisting of  Aristy B, Ralim S, Soun and Lady B, are preparing for a November release of a new album entitled "Renaissance,"
While awaiting this album, Lady B will perform live in Bangui (CAR) on October 25 and a tour of the CCF and Alliance Franco.