Blick Bassy is the new soul voice of Cameroon – soul in the sense of vocals that come from within. Bassy says: "The soul of my music isn't so much in the words, it's in the way of singing.
Blick Bassy was born in 1974 in Yaounde.His family is part of the Bassa ethnic group. The word 'bassa' means 'people from the earth'."
Aged 10, Bassy was sent to live with his grandparents for two years in Mintaba, a small village situated in the centre of Cameroon. His grandparents initiated Bassy into traditional customs and culture, training him in a variety of tasks, such as hunting, fishing anmd agriculture. He was also educated in their musical traditions.
In Mintaba, daily life is accompanied by music and it was there that Blick discovered the "Bolobo" (chant for fishing), "the Dingoma" (chant and percussion for the inauguration of Mbombock chiefs), "the Bekele" (chant and percussion for weddings), "the Hongo" (chant for funerals) and the "Assiko" (guitar percussion, chant and dance). "In Mintaba, people don't talk much but they sing a lot during their daily tasks. It's in the singing that they express their emotions and show their souls.
My mother used to sing from morning till night. She's the one who fired my musical aspirations and taught me how to sing. Back at my parents' home, I started listening to Marvin Gaye, Gilberto Gil and Nat King Cole. I realised I wanted to blend the beauty of my Bassa culture and its musical traditions with other music that inspired me and create my own soulful sound."
Blick Bassy started his first band, Jazz Crew, when he was 17. Playing a fusion of African melodies, jazz and bossa nova, Jazz Crew quickly became the most sought-after group in the city.
In 1996, he formed a new band called MACASE. During almost 10 fruitful years Macase released two acclaimed albums, Etam (1999) and Doulou (2003), as well as picking up various regional and international awards, including the RFI Prize for World Music (2001), Best Group by MASA (2001), Best New African Group by the KORA Awards (2003) and the CICIBA Prize (2003).
In 2005, Bassy decides to leave Macase and he moves to Paris where he starts working with Manu Dibango, Cheikh Tidiane Seck, Lokua Kanza and Etienne Mbappé.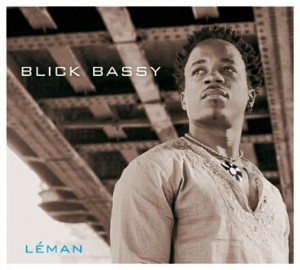 A few years later he signs to the World Connection label and he finally gets to do work on his solo album, "Léman".
In this album "Léman" Bassy connects the music of Central Africa and West Africa with Bossa nova, jazz and soul.
Leman means "mirror".According to Bassy,the mirror gives a vivid reflection of what we really are.The album is about the past,reality and being African.This is portrayed in his song "Africa".
The album was recorded in Salif Keita's studio in Bamako,Mali and his current home-town Paris by Jean Lamoot (known for his work Salif Keita,Nneka, and Saoud Masi ) and Jean Louis Solan
The album was produced under the World Connection Label
It's a soul-searching debut !!
Enjoy!!
www.worldconnection.nl/blickbassy