NexDim takes you into the world of this fascinating Cameroonian beauty with a stunning profile. She tells us about her career, experiences and challenges.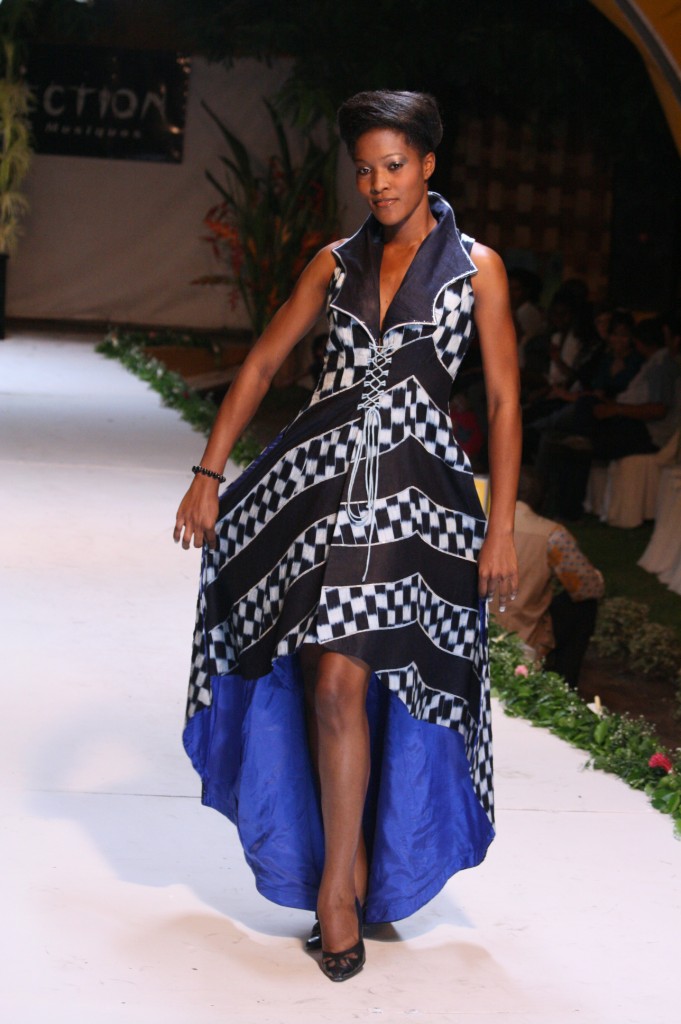 Brief introduction
"I am Audrey Beyala , the African Pearl, born under the Equatorial sun of Cameroon.  1m 80 in  height and 60kg, weight."
About  her journey to becoming a model.
"I entered the world of glitz and glitter, while in Abidjan, West Africa,the  capital of African fashion. My aunt, an intern with PATHEO introduced me to his friend, a  promoter of cultural events. This enabled me to participate in my first parade,which was my first wonderful experience.Back in Cameroon a few years later, after my Baccalaureate, I first participated in the election of   "MISS CAMEROON." The attempt was a success. Indeed, out of sixty applicants, fourteen were initially elected, 4 for the finals and at the end  I am elected  "3ieme Dauphine",  of  "Miss CAMEROON . Then began a series of  interviews TV, radio, press, educational Talks in schools, Social talks for the poor,  HIV / Aids positive patients, giving Gifts, distributing condoms, and educational materials. Highly publicized, after my term, I was solicited by modeling agencies. I decided to venture into Freelance. Fortunately, in my career, I have met wonderful people who have assisted me  in my work: A lawyer named Nwame Belinga Jacques, the technical team of  magazine Networks  and an Adviser / Consultant / Agent by name Menthong Gerard.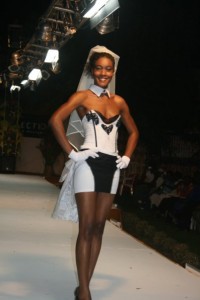 Since then more  parades came:
-Afric Collection 4th, 5th, 6th edition
-Fashion Designers parade
–
PATYRAJ
(A Collection of Rajesh and Patricia) A fusion between India and Africa
–
JOHN Black and White
Collection (Cameroon)
–
MODELA
's Collection (Nigeria)
–
KWESI-NTI
's Collection (Ghana)
–
Annette
's Collection  (Cameroon)
–
CHRYSTALIX
Collection (Cameroon)
–
Terranga Couture
(Guinea Conakry)
–
Collection
IMANE AYISSI
( Tribute to Katoucha, Cameroon)
–
Collection JOSE ESSAM
(DRC)
–
Alphadi
and  Sahel Clothing (from the Niger)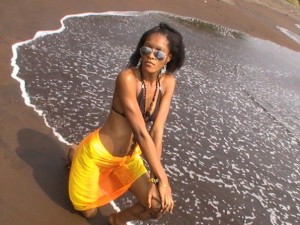 Young Designers contests and exhibitions;
-A participation in the Contest for Young Designers:
-Ecole ESDM  (
Ecole supérieure du design de mode), 

Cameroon
-Ecole JEMAN (Cameroon)
-Alex WAMBA (Cameroon)
-JOELLE Choupa (Cameroon)
-GUY ENANGA (Cameroon)
-STELLA ATAL(Uganda)
* Artists' props:
-Papa Gueye (Senegal)
-A participation in  "Spectacle de coiffure";
-Maitre AYI, the owner of  DIMENSION ART which aims to revolutionize the art of hairdressing in Cameroon.
– A participation in  Hairdressing contest, "Concour de coiffure"
– I also worked with
El Jackson
.
– The promotion of perfumes and women's T-shirt ,
"FIMA
2009 " by the fashion designer
"Alphadi"
– Participation in International Exhibition  
"PROMOTE"
2008 " under the colors of  MTN and the association " FAMOUS ART based in
Orleans
, France. I am a member and representative in Yaounde.
–
"COULEURS ET TOILES"
by Nicolas Bissek
– The promotion of the new mobile option in Cameroon:
MTN-TRACE MOBILE
-Participation in the inauguration of the Palais Omnisport Oyem (Gabon) by the former Interim President by Gabon.
– Participation in a charitable fashion show "
EFFOFES D'AFRIQUE
" organized by
"Famous ART"
, Gabon.
-Participation in the contest under the leadership of hairdresser and  barber,  
El
Jackson
, held in N'Djamena in Chad.
These experiences  on the National and International scene, rich in  human relations have  kept me close to my passion ,
fashion.
It  helped me develop more confidence in the catwalk , showing  more professionalism while enriching my contacts: Professional contacts  (promoters, managers, media men …) and Friends (models, Men of the media, some developers).
"As a rising star in modeling, I put forward the beauty of African women.As
Black4u Beauty
, I am encouraged and welcomed in my journey through the media that show interest in the values that I advocate.
Media
Among those with whom I had to work  with ( television interviews included), I would cite:
–
Tina Blanche,
President of the association,
"FAMOUS ART"
and promoter of cultural events
–
Ayden
, presenter of the show
"Planete Mode"
on
3A Telesud
–
Nobody Tony
-presenter of the show,
"MBOA"
on
Canal 2 International
–
Valery TITO
presenter on STV 2
My publications in national magazines: Nyanga, Le Messager, Mutation,  Cameroon-Plus. International magazines: Amina, Brune, Miss Ebene, Just Class, Femme d'Afrique …
Internet media: cameroon-plus.com ,Black4u.net , nexdimempire.com to name but a few. They have always encouraged me in my work and my passion.
Challenges
Modeling is still a taboo and stigmatized; Regarded as a medium for beautiful girls with empty heads. This is mostly because some take advantage of the naivety of  girls who have a passion for fashion and modeling. They drag them into a point where they can no longer cope. I received proposals from these unscrupulous people in my career where I have nearly entered into contracts that would have cost me damage. Fortunately, being more informed and guided by a great team, those are the obstacles I managed to avoid and which can be avoided.
The most important thing is to keep in mind the objectives set from the  unset; to believe in your passion and dreams. Dare not say things are going wrong or it does not suits you; Know how to earn respect as an African woman and keep your dignity in all circumstances.
The adventure continues. Dates of  cultural events have been programmed for  Europe, and America: Fashion Weeks, "Egerie de grandes marques" , advertising, spots and posters, magazine covers, I will go as far as fashion will take me!.
NEXDIM WISHES YOU THE BEST IN YOUR CAREER !!