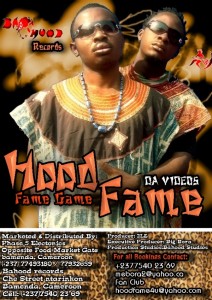 HoodFame is an Afro dancehall duo which comprises of Taboh Benard a.k.a. Big Bora and Che Victor Fru a.k.a. Vykyms da Punto. They've chosen the Afro Hip Hop genre so the cultural background of the North West region using the dialect and the famous Pidgin English be represented properly.
Born on the 2nd of November 1984 and 4th of August 1986 respectively, they both hail from the North West region of Cameroon precisely from Mankon – Bamenda and have come a long way since childhood going through so many ups and downs before and finally making their way into the entertainment industry.
While in secondary and high school in Bamenda, the two paved their way into the industry by performances of playback on music such as  Cameroonian makossa, the ndombolo genre from D.R Congo, mapouka from Ivory Coast and hits around the late 90's and early 2000 . They thrilled the entire population with their spectacular dancing style with performances in schools, festivals and shows alongside members of their hostel and gradually started doing lyrics. And after recording some successes in inter college competitions, they decided to carry their lyrics and inspiration to the studio.
Vykyms da Punto joined the entertainment industry after leaving the University of Yaoundé 1 where he studied Biochemistry. He plays the role of a rapper and does his thing in pidgin, very straight forward, gentle, out spoken and loves the company of others. He holds a Diploma in Cooperative Studies from the National Cooperative College Bamenda and is the founder of Punto Wine that is gaining market now around Abakwa.
Big Bora on his part acts as the director of Finalphase Youth Empowerment CIG, an executive producer and full time showbiz entrepreneur.
The dancehall duo recorded their first demo in 2004 and had to pause for financial reasons while working underground. They were later signed to Bahood Records after recording some few more demos. " Fame Game " the first album was released on the 21st of August 2007, gaining two successful awards same year as Northwest Artist of Year by Orange Cameroon and Best New Act of the Year in Bahventi Awards.
The 'Fame Game' has been in the market since 2007 and has sold over 9000 copies in Cameroon, Nigeria and USA. They have been working in the studio while doing shows around the country and also in neighbouring Nigeria.
Being the first to have an album in Pidgin English hip hop in the region, Hoodfame has gained a lot of respect and exposure considering the way the debut was welcomed by the population especially hits like 'Akuma', 'Makossa Regaeton' and 'I Remember'.
Worthy enough, these two have no time to rest as their second album "Watz Lyfe" will be released anytime soon. The promo track for the album has started gaining fan base across media houses and the first promo video DIS LOVE was released on the 1st of January 2012.