NexDim Entertainment caught up  and went in for an up close and personal chat with Holland based Cameroonian childhood song writer, singer and dancer, Sue Belle in an exclusive interview just for your entertainment.
Follow!
NexDim: Hi Susie
SB: Hello Sarah
NexDim: How you doing?
SB: I'm doing great how are you?
NexDim: So who is Susan Bell?
SB: I was born in Cameroon in the South West region, Limbe precisely, but raised in Holland from the age of 7. I'm actually the first child with two siblings, two beautiful girls just like myself and I'm a humble, down to earth and open-minded person who is ready to accept people into my world no matter my social status. I'm also a little bit reserved and strict concerning certain things. I love listening to music, singing and writing lyrics as well.
NexDim: What got you into the music industry?
SB: Growing up I use to listen to Whitney Houston, Janet Jackson, En Vogue and Toni Braxton. I started singing along with them. I realized that I really learned the lyrics fast and I enjoyed singing and dancing as well. In primary school my sister and I would perform songs from all those artists I just mentioned. And before I knew it I was hooked on singing and dancing!
NexDim: Your first song "whatever it takes" tell the world about it
SB: The song is about a girl who was dating this great guy, he always treated her right. Then one day she meets another guy and cheats on him. He finds out and he leaves. She regrets what she did and begs him to come back to her, whatever it takes she wants him back in her life. That's what the song is about.
NexDim: What was the inspiration behind this very first single?
SB: It all started when I received the beat from a friend, he told me to see if I could come up with some lyrics. So one day I was just sitting behind my pc trying to figure out how the beat made me feel. I started writing the chorus first and then the first verse. I couldn't continue so I took a break until the next day I came up with the rest of the lyrics and I started recording it on my pc with a recording program that I had installed. During the recording I changed some sentences and at the end of the day I had recorded the whole song. I called a friend of mine who is also a singer and told him about the song and if I could record it at the same studio where he records his songs. Finally I got there and recorded 'Whatever it takes'.
NexDim: How is life in Holland compared to Cameroon's?
SB: Life in Holland is different compared to Cameroon concerning self-development, chances and opportunities. I think in Holland it's much easier to realize your dreams and aspirations than in Cameroon.
NexDim: And how do these differences promote your music career?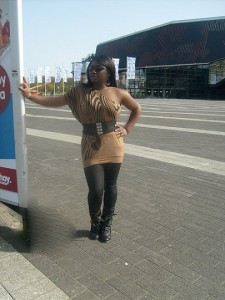 SB: I just started my music career, but I will definitely release songs with some African influences in it. That is my plan for the future.
NexDim: Out there hasn't been all roses what are some of the problems you encounter?
SB: Well growing up in another country other than your hometown is not easy for anyone I think. Though it wasn't that difficult, cause I came here when I was 7 years old, so adapting really went fast. Learning the language and understanding the culture was quit a great experience. When it comes to finding a job it's kind of difficult when you're black, they look at you during a job interview and think that you won't be able to do the job well. I have experienced that twice, I went to a job interview once and at the end the interviewer told me that he thinks I won't like the job, I asked him, he couldn't even tell me why. As a black person you have to work harder than the white people if you want to get a good job. it's kind of frustrating. Other than that I haven't really experienced racism in any other situation.
NexDim: Do you ever sit sometimes miss home and feel like coming back?
SB: Yes I definitely miss home. I was there a few years ago and I loved it.
I just thought to myself: this is where I come from and got kind of emotional about it. I think it's very important to know your roots, no matter where you are.
NexDim: When and how did you begin your career in music?
SB: I started singing when I was 12 years old and I wrote my first song when I was 14. I used to form a group with 2 of my sisters, so the 3 of us recorded about 3 songs. Then they decided that they didn't want to continue and I stopped as well.
I focused on my study, meanwhile still writing lyrics. I performed in a café once and took some singing classes for about 3 months.
This year I just decided that I wanted to continue with my passion for music.
So after I wrote my first song I thought to myself, music is my passion so I'm not going to give up on my dream of becoming a musician.
NexDim: What's the way forward for you?
SB: Right now I'm working on other songs and there will be a video clip for my first song. I also did a remix for my 'Whatever it takes' with some other artists. At the moment I want to release 'Whatever it takes' and then I will be working on an album.
NexDim: Any upcoming releases?
SB: Yes, like I said I'm working on other songs right now, I'm about to release 2 other songs any time soon.
NexDim: Any plans of coming home any time from now?
SB: I do have plans to visit Cameroon, but I haven't decided when yet.
NexDim: Who is your icon in the music industry?
SB: I actually have 2, Toni Braxton and Brandy.But I would say Toni is my favorite, I love her music.
NexDim: Why this person how does he or she inspire you?
SB: The way she sings moves me so much and her lyrics are magnificent.
I love her voice, she is a great singer. I must admit that there's not a week that goes by without me listening to her music.
NexDim: What do you enjoy eating most?
SB: I love Cameroonian food a lot. My favorite is ndole, either with rice, garri, fufu, anything I will eat it. But I also love fufu and eru, those are my favorites.
NexDim: What message do you have for both your fans and youths out there with similar dreams like yours?
SB: I would like to let them know that I will be releasing more songs, work with others and video clips are coming their way. To anyone who wants to sing, dance or whatever, I would like to say that please don't give up on your dream, believe in yourself and focus on what you want to achieve.I read a quote once and it said: "When you stop dreaming, you stop living".It makes a lot of sense to me, don't give up no matter what anybody says it's your dream and your life, make it happen!
Okay Belle it's been of ultimate pleasure talking to you on nexdimempire.com
Click on the link below, its "Whatever It Takes"
Enjoy!