Hey NexDim Fashionistas, tickets for entry into the prestigious Cameroonian culture filled Miss Cameroon UK 2011 beauty pageant featured some days back on your everyday entertainment site http://nexdimempire.com/tag/miss-cameroon–uk-2011/ are available and very limited by hall size.
The tickets are available at very moderate and affordable prices as from the 18th to the 26th of November when the event finally takes place. Standard tickets stand at £35 to £50 while Standard Table for 10 seats goes only for £300, and VIP is available upon request.NexDimers, this is it!!!, Do not miss the chance to be part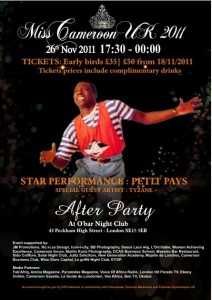 of this once in a lifetime event as the popular Cameroonian king of makossa Petit Pays performs live on stage in Porchester Hall, London, with Jamaican Tyzane starring as special guest artist.
Go you nowhere, rather follow suit with an After Party in a grand style at O'bar Night Club, 43 Peckham High Street-London.
Chaiiiii na njoka be this?
BETTER GO GRAB YOUR COPY NOW!!!
For more info contact: 07956 454 786 or 07958041638
Or visit the website: http://www.misscameroonuk.co.uk/