Cameroonian fashion designer Ngwane Liz keeps breaking the mold in the fashion industry. Her avant-gardist and creative direction are changing the fashion landscape in Cameroon.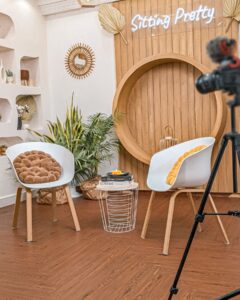 Over the years, her fashion brand Margo's Mode has complemented value to Cameroon's inherent culture through ingenious and classy designs.
She has taken a valiant step to open an exquisite fashion store and an aesthetically-pleasing luxury Rental Studio. It is situated at Bloc Sonel Bonamoussadi by apartment Yorojos. It is an idyllic place to visit.
#studio_8nintysixty is a lifestyle brand for the nature lover, who takes pride in embellishing their home with trading craftsmanship and modern designs.
The vision is to grow and encourage local craftsmanship by providing education, jobs and improving standards of living by distributing African Craft.
SERVICES
Rental space only on booking for content creation
Sale of beautiful crafted furnitures
Available for your interior design
#nexdimempire