JuJuCRACY JU-BAH'L
is a
Camerborn
"jujurock" artist who came into earth as  
BAH TARKE
to a royal family, son of the ruler of the Funam Bome,META people of Cameroon. He is the founder of JuJuROCK CITY of JUJUKISTAN,a record label and LAND of  very deep musical ideas such as:
THE PROPHESY Pictures and Sounds
freedom and Truth
REVERSED CIVILISATION
THE ANTIDOTE (seed of Rape)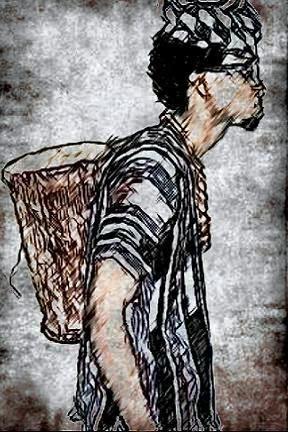 He studied theatre arts at the University of Yaounde 1 but he is a self taught professional in visual arts and everything music.
In 2007, he was selected by the British Council to represent Cameroon in the "BRING THE NOISE" artist residency program that brought visual artists and musicians from 10 different countries to work together and go on a 7 country tour.
You will remember this guy if you had attended the following shows:
COMMONWEALTH HEAD OF STATES MEETING CHOGM UGANDA
IN THE SHUNT LOUNGE LONDON
THE ROUNDHOUSE LONDON
WAPI LAGOS
WAPI TANZANIA
WAPI KENYA
THE BBC BUSH HOUSE LONDON
THE SAUTI ZA BUSARA FESTIVAL ZANZIBAR
JU-BAH'L is currently working on a couple of musical Visuals namely JUJUCRACY, THE SON OF THE DRUNKARD and THE ANGELIC QUEEN.
JU-BAH'L  sees his life as a riddle and prophesy, a purpose unknown as his god, the creator of JUJUKISTAN the TIME BOMB  with MUSIC FROM THE FUTURE, painted by the Ugandan news paper as THE NEW VISION.
in his own words:
"AM FRUSTRATED WITH THE EFFORT TO TELL A STORY,ONE WHICH YOU CAN ONLY SEE THE MUSIC AND HEAR THE PICTURES,AND THAT'S THE ONLY WAY IT CAN BE TOLD".
infact this guy too much… catch him on his facebook page below or listen to some of his songs….
[audio:http://nexdimempire.com/wp-content/uploads/jujucracy-JUBAHLHER-QUEENDOM-COME.mp3|titles=Her Queendom come]
[audio:http://nexdimempire.com/wp-content/uploads/jujucracy-JUBAHL-mbolocracy.mp3|titles=Mbolocracy]