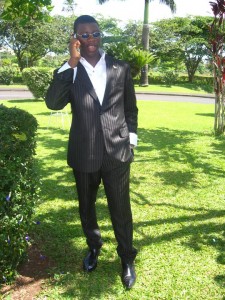 Botambu Collins is a second year political science student at the University of Buea but don't let his youth fool you. He is a budding  film producer who has just released his latest film" Genuine love". His love for acting  and scriptwriting inspired him to try share his stories with the world through film making. In the following interview he tells us about his vision for film.
Nexdimempire: You have just released a film"Genuine love",what is it all about?
Collins: The film explores the trials of a young woman who leaves home for school and ends up with the wrong crowd. It is a moral story of  the  gap between appearance and reality. Briefly put ,that's the film.
Nexdimempire: Cameroonian films are often accused of being more of theatre on screen. Is this film any different?
Collins: Yes of course,the film is different because it is made up of extremely talented actors and actresses who have a unique vision about cinema.
Nexdimempire.com: Why have you chosen to produce when most Cameroonians prefer being in front of the camera?
Collins: They all want to  become stars but that is not my objective. People do have the talent but  finance is a problem. So I try to mobilise resources to make these talents shine.
Nexdimempire.com: What do you think about the Cameroonain film industry? Is it moving forward,backward or what?
Collins: I think it is moving forward. It is moving forward. The various production houses just need to come together and do something that they can be proud of.
Nexdimempire.com: Do you think running to Nigeria is the best way for the Cameroonian film industry to develop?
Collins: Yes! I think Nigeria will help us to market our movies and give us advice cos they are the big brother in movie. Ghana too is learning from them and they are improving.
Nexdimempire.com: What are your  next projects?
Collins: My next movie is titled  "Prodigal son" which   I believe will be one of the best movies Cameroon has ever produced. I am just counting on corporate sponsors  to help us and also  government too so that we can get all the equipment we need for the movie.
Nexdimempire.com: Thank you for your time.
Collins: The pleasure is all mine
All those who share share this young film maker's passion for movie making  and think they can work together can contact him through 7517-2417 , 9667-2957.