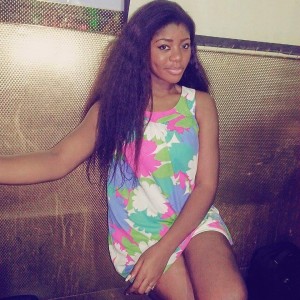 Alluring , eloquent,  dependable and creative , Malvis-Ann Mohvu is a stunning personality whose theatrical savvy  and strong potential as a video vixen caught Nexdim's attention. She keeps fine-tuning her craft with absolute penchant and determination to journey to greater horizons. She recently starred in Bluerain's blockbuster movie and equally done corporate commercials and videos.  Her goddess-like beauty is definitely a superlative compliment you can't take away from her. Nexdim caught up with the Buea-based actress and video vixen for an exclusive interview about her career exploits. Read on…
NEXDIM: Hello Malvis. Briefly introduce yourself.  
MALVIS-ANN MOHVU: Hello, I am Malvis-Ann Mohvu , 23 years old Cameroonian actress and entrepreneur. I am from a family of 6 and I am the last . I like to sing but I am not good at it (lol ) but I do it anyway.
NEXDIM: When did you decide to indulge into acting? 
MALVIS ANN MOHVU: I decided to be an actress way back in primary school . I was very good in plays. I usually criticized how actors portrayed characters in movies and one day I followed a friend to a rehearsal and was teased to mimick an actress  from there , I was discovered by a movie director called Ngala back in Limbe where I lived at the time.. He actually gave me my first ever movie role . God bless him.
NEXDIM: What inspired you to become an actress and video vixen?
MALVIS ANN MOHVU: There were people whose ways I admired and imitated like Omotola and Genevieve and ever since I was discovered to be good at it, I have not stopped chasing it.
Being a video vixen has not always been my dream but the first time I accidentally did it  and got recognition and money from it, I  decided not to let it go. I decided to learn more about it and make as much money as possible out of it.
NEXDIM: Name some of the projects you have done so far.
MALVIS ANN MOHVU: I have been part of prestigious projects like "The King of Sakaboom" , "The Rumble " and have featured in the music videos of the fast growing stars, Tzy Panchack's "Chinda " and Salatiel's "Fapkolo".
NEXDIM: What are some of the challenges you face as an actress and video vixen? 
MALVIS ANN MOHVU: My challenges so far have been minor and usually normal for someone who does what I  do. On most sets I have been on, I have been adequately respected .
But it's the public that starts being petty about it and assuming that sexual relationships must have emerged just from featuring in a video but I understand why they may think so. The picture painted by other vixens is not a pleasant one.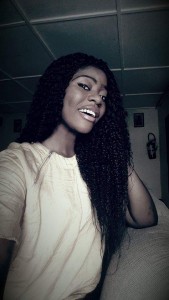 NEXDIM:Tell us the best moment you've experienced in the entertainment industry. 
MALVIS ANN MOHVU: I have met the top stars and directors, I have met international stars with whom I will like to work with.
NEXDIM: How did you develop such a massive following on social media? 
MALVIS ANN MOHVU: I cannot say that it's something specific that I did to gain that but I am thankful for the fact that people like me and are happy to see me. I share my life's experiences and thoughts to people who can relate. I play and joke alot and try to make people happy or just cheer them up. Some even come for help in general . I think I am a good friend (lol ) . Well everyone has their reasons why they like me. I post directly what I feel. It might inspire, motivate or entertain someone somewhere in the world.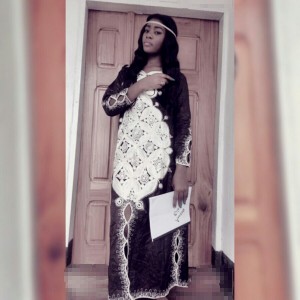 NEXDIM: How's your daily life as a celebrity? 
MALVIS ANN MOHVU: My daily life is not as normal as it used to be for sure.  I get attention and favours. I get love from friends and I have gotten fake friends too (lol) infact to speak the truth I have already figured out the one who will betray me. (LOL)
NEXDIM: What's your relationship with other actresses in the industry like?
MALVIS ANN MOHVU: My relationships with some of the actresses are very good especially the boys but only a  few girls are truly nice. For the girls everything is a competition. They always try as hard as possible to make people see they are better . "I remember one time I asked one actress for a favor and she ran off and told all her friends"
NEXDIM: What are your ambitions?  Any future projects? 
MALVIS ANN MOHVU: I am one of the most ambitious people I know. I plan to help alot of people which is what I have started already. I planned to open an orphanage but studied myself and realized that I am not that organized. I did not like the idea of putting people in charge. If I have an orphanage I want to be the one to raise the kids and look after them like a mother should. I have lots of ideas that are already in progress to be released soon. I want my country grow in any way possible. But I will pick and orphanage and be a sole contributor to it.
 I will like to be award winning . I  work hard in achieving that.
NEXDIM: How would you rate our movie industry in Cameroon at this stage?. What can be done to improve productivity and credibility?
MALVIS ANN MOHVU: The year 2015 has been the most productive and serious year in this industry. We have been recognized more and taken seriously from my own personal observation, I think it has grown by 40%. I think both the actors and producers should respect the terms of their contracts. I also think that they should copy from what "Rumble" is doing. Billy Bob (the director) makes sure that he is responsible for all activities on set makes sure that he resolves conflicts amongst actors.
NEXDIM: Who's your fave actor or role model?
MALVIS ANN MOHVU: My favorite actor in Cameroon is Ade Kelly Evenye , in Ghana Jackie Appiah and in Nigeria Mercy Johnson.
NEXDIM: Is Malvis Ann Mohvu in a relationship?  
MALVIS ANN MOHVU: Hahaha I'm in a relationship . Silly, infact to speak the truth, I am in relationships . Hahaha . I know what your thinking but I say that in the safest way.
NEXDIM: What's your fave dish?
MALVIS ANN MOHVU: My favorite dish (lol) will be fufu corn and Kati Kati.  I know how to cook it and I cook it alot.
NEXDIM: Who are your fave Cameroonian urban artists?
MALVIS ANN MOHVU: My favorite Camer artists are Mr Leo, Blaise Bsings, Magasco and I am especially excited about my friend's new song "Diana" by Steveslil. I read about it a few months ago , we met and talked about it. The concept of the video was so good . It was about love "I called it an epic love story".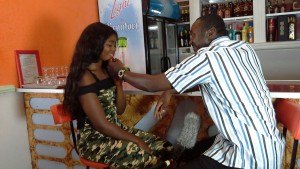 NEXDIM: What's your advice to young and ambitious actresses who want to become like you?
MALVIS ANN MOHVU: For my young people full of dreams it is very easy to loose your way in this industry especially when you start unnecessary comparison and setting standards which you know deep down inside you that you cannot genuinely meet.  Be humble and respectful like the North West woman. For sure you will be tempted but I pray you use wisdom to tread whatever path that you choose.
NEXDIM: It was nice having you. Keep igniting the flames. 
MALVIS ANN MOHVU: Thank you so much for talking to me Nexdim. I am so honored that you took your time to talk to me . God bless you and see you next time ?.