Cameroonian born afro hip pop and aspired afro soul artist Dago P was in Molyko Buea experiencing the making of his debut single entitled "SLAPPING JAITTIS" with the young and renowned Cameroonian Movie Director/Producer based in Germany and Buea Achille Brice. Happy news is this explosive heart throbbing single "Slapping Jaittis" will be hitting the waves of most radio and TV stations within the territory in less than no time. Nexdim meets up with him in molyko and eventually witnessed the making which paved the way for an exclusive interview.
Follow!
Nex Dim: Hello Dago P how you doing?
DP: Am doing just fine thanks
Nex Dim: Can you please introduce yourself
DP: I am an artist called Meyewoh Dagobell who goes artistically by the name Dago P. Am a Cameroonian by nationality from the West region precisely from the Bangwa'a tribe in Bangante and from a family of five, four boys and a girl who is the first born and am the third child in the family.
Nex Dim: What's with the look?
DP: Hahaha!! funny you know as an artist you must look different from others for some kind of identification that's my belief, the hair style is les dread teinte
Nex Dim: When did you begin your music career?
DP: Hmmm let's say this is 2011 right? Take us back to nine years ago that's 2002 when I started with my elder brother Jesus Harrison, back then we were in Mbalmayo, oh we'd be hitting the table and singing, just the love for music pushed us forward. And when we moved from Mbalmayo to Kumba we actually started music in Kumba, doing acapellas for those American songs and organizing show biz just to make sure we sing. It was such a wonderful experience and start.
Nex Dim: What inspired you to get into music?
DP: You know it's not because I see people singing that made me to start singing too. I love those old school American songs like I'd See You When You Get There by Coolio, Backstreet Boys' As Long As You Love Me. Just listening to them and doing acapellas pushed me and gave me much inspiration to get into music and try something for myself you know
Nex Dim: Tell us about this debut single "Slapping Jaittis"
DP: "SLAPPING JAITTIS" that's the title, it just came to me like an innovation following what others have done like PINGUIS, PONGOR. I just wanted something different, to be the creator of my own self so my thoughts and inspiration drove me to that innovation that's it!
Nex Dim: How do you intend to cope with the issue of piracy in the country?
DP: Piracy is like a disease that a single man cannot fight and eradicate completely from our country. With my debut single coming out soon I intend to join those already in the fight against piracy to do something. Besides, music now is not a money making business cos someone like me I actually sing to fulfill my dream for life and my passion for music.
Nex Dim: What do you think the government can do to help promote music in Cameroon?
DP: It's all about giving us opportunities you know helping us grow in the music industry by creating some events about music which will involve not only the renowned artists who have made it already but also those uprising stars or artists like myself and others out there. The government can be of help too by building strong forces to fight against piracy and eliminate it completely though it will be a long and gradual process cos it has eaten deep into the country already
Nex Dim: Any collabo?
DP: Yes, I have collaborated with Douala based makossa artist Narcisse Pryze on a track which is still to come out. Also with Kumba based artist Big G back then in Kumba when we were still together in a group. I have also worked with my elder brother Jesus Harrison in a crew WHITEDOVES and we actually came out with an album entitled "FOR SECCA MONEY", the crew had me as the lead singer since I was the one who actually made things happen, we had some songs like "MAMA" "JUDAS" "AMBITION" and lots of more.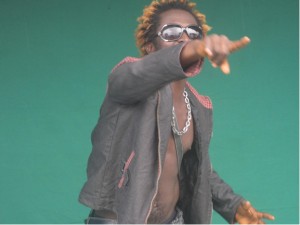 Nex Dim: What's the way forward any future plans for you?
DP: Hmm! Man it's all about being a superstar. I don't want to look at how far its gonna take me all am concerned with is that am part of it ( music) and as long as things keep happening the way I see them happening now oh man am happy that way and about everything that's happened and still to happen.
Nex Dim: Let's get personal are you married?
DP: No no no! And am not into any relationship
Nex Dim: That's strange, for a young and handsome guy like you all alone and single to himself why is that?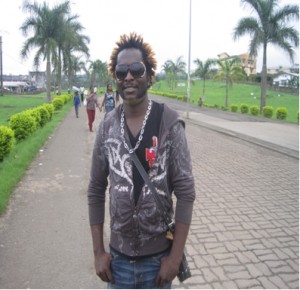 DP: I find it good and nice to love you know and am
too jealous when it comes to love my past
relationships have been moody because
I hardly meet serious girls, I hate it so
badly when people play with my
emotions so to avoid it I decided to be alone
focus on my career and future
Nex Dim: Your role model
DP: You know when it comes to
entertainment, something that makes
you feel good I love Samuel Eto'o Fils
he has been a brother who makes
things happen, I would really love to
see him personally and tell him this.
In the music world, man I love
2Face Idibia of Nigeria, Lokua Kanza,
the old schools of U.S.A. – Cool U,
Tu Pac, Backstreet Boys, man they
are just too many cos everyone of
Them gives out something
meaningful to me.
Nex Dim: Favorite meal
DP: Plantains and beans with ndole, wow
Nex Dim: Wow it's been really nice chatting with you on nexdimempire.com
DP: Likewise it was my pleasure and honor talking to a beautiful girl thanks
Listen to his songs below:
Slapinjiatis by Dago P
[audio:http://nexdimempire.com/wp-content/uploads/slapinjiatis.mp3 ]
Mama by White Doves
[audio:http://nexdimempire.com/wp-content/uploads/mama-white-Doves.mp3]