The urban music scene has been under turbulence in the past 2 days with abusive and controversial tweets streaming from the 'Mboko God' Jovi and he doesn't show any signs of ending his rants any time soon. Amusing enough, this crazy tweets surfaced just after the Bob Marley Day celebration.
Could he be high on weed or just having fun with his phone ?
Jovi, on Twitter posted derogatory utterances about Stanley Enow calling him a "Wet pussy about to get f**ked'  Magasco ' A pig and Pit Bacardi his father". Damn ! Check below.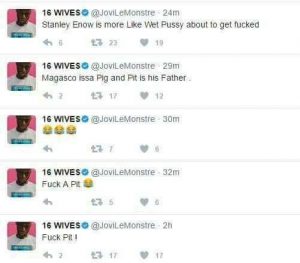 These harsh insults hurled at these artists has triggered a feud between Jovi and Stanley Enow's camps while Magasco as usual remains silent.
The Bamenda Boy has rather been posting photos of his show with Booba and Dosseh at the Omnisport stadium in Yaounde like he doesn't care.
Fans have also been busy judging Jovi's latest awkward behaviour on social media. 
Albeit Stanley's silence, his brother and Motherland label head Martin Enow has not taken it lightly. He reacted to Jovi's tweet by challenging him to come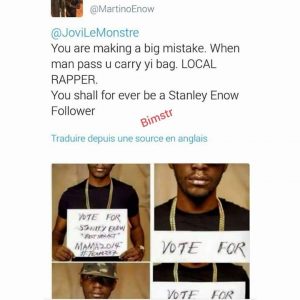 to Douala in the next 24 hours if he's man enough. Stanley Enow's manager Didier Kouamo has also come out to reprimand Jovi.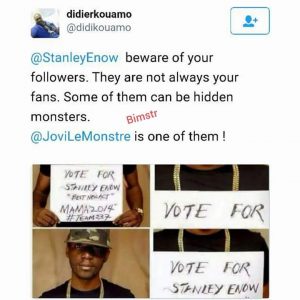 Martin Enow has extended his fury to Jovi's girlfriend Celine Fotso with torrents of insults. Celine has blocked Martin on Twitter as we report.  Lol.
Jovi later stated that he hopes everyone is being entertained. Is he insinuating the insults were just to erupt a stunt or is Jovi actually serious ? 
Apart frim blogosphere reactions, Salatiel has also reacted to the ongoing feud saying real artists with talents should rather beef in songs not act like 'Hip hop cry babies'.
Today May 15, Jovi just changed Stanley Enow's name to " WET P" and calls his music 'wack'. He adds that he will never collaborate with the Stanley Enow. 
This is just adding salt to a bleeding wound. His twitter fingers are more active than ever.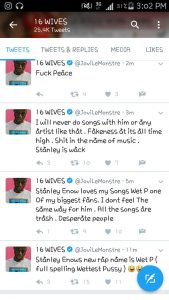 What is his reason for throwing shades at the Bayangi Boy ?