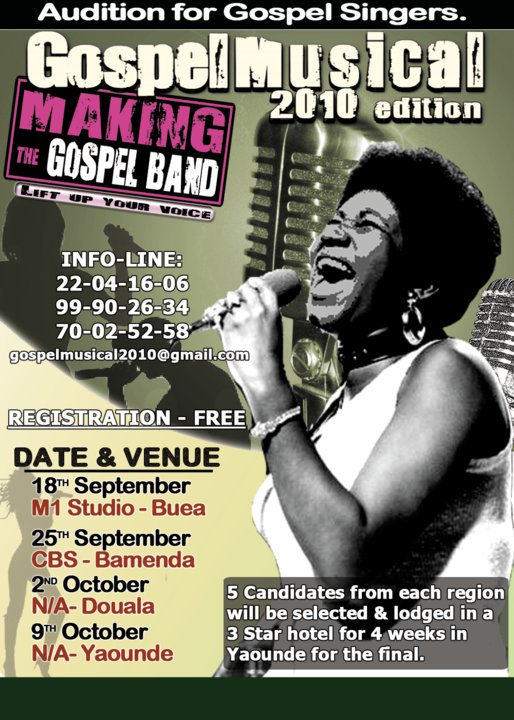 The first phase of  auditions of the  GOSPEL MUSICAL 2010 , maiden edition of  "Making the Gospel Band" kicked off in Buea on the 18th of September at the M1 Studio premises  with much vigor and passionate ardor.
Gospel Musical 2010 is a TV reality show and a  nation-wide gospel music talent search with the aim of assembling a new gospel band. The panel of judges constituted Ngafor Hans  ( renown bassist and sound engineer) , Achalle Denis (Kora Nominee and Star De Demain laureate) and Pastor Roland ( Coordinator of Gospel Musical 2010 )  supported by Wegmuller Efokoa of BlueDrops Studios (Producer of Not My Will and video director of Gopel Musical 2010 ), Bemo Zinnia (Winner of Mutzig Star 2009), Stanley Miki (technical department) and Njunkeng George.

The next phases of auditions shall take place on the 25th of September at CBS-Bamenda, 2nd October at AVT Media-Douala, and 9th October at VMG International in Yaounde.
The following candidates were present at the auditioning in Buea; Robert Ajumani, Susan Enjema, Tabe Ruth, Lyonga Samuel, Lilroy, Esther Oben, Clarisse, Mofor Elvis, Njimape Terence, Ekale Manfield, Jeane, Njang Bate Derrick, Daryl Chris, H-Piezoh, Lum Chine Pamela, Fonyuy Leonard, Menda Prosper, Anjoh Felix.

5 candidates shall be selected from the 4 regions ( South West, North West , Littoral, Center) who shall qualify for the grand national finals to be held at Siege Merre in Yaounde . The candidates shall be lodged in a 3 star hotel for 4 weeks .
Making the Gospel Band is exclusively sponsored by DRIMP Foundation. Talking to the general coordinator , Pastor Roland, the concept is to bring out the talents embedded in the youths, give them the opportunity to express themselves musically in praise.
"The idea is to spread the gospel of Christ in another way… You must not be vulgar in order to be known, you could be still sing gospel or humanitarian oriented music and equally get known. The aim of DRIMP foundation is to impact the lives of people positively and give them the opportunity to get somewhere. This is just the first phase which entails vocals and articulation."
There are several prizes to be won like  mp3 players, IPODs, DVDS and more. The final band shall grab a recording deal and a stunning cash prize. DON'T MISS !!

Registration is FREE ! . You can register by contacting  +237 77 70 11 58, 99 90 26 34 or 70 02 52 58.

Email: gospelmusical2010@gmail.com
NexDim caught up with Ngafor HANS , who was a member of the jury;
" It's a beautiful concept which is first of its kind. If you look around the world, 3/4 of  today's top celebrities and legends have had a gospel background. The call  is therefore for Africa to rise up . This is a great opportunity for the youths to express their vocal ability. We shall select the best with no iota of bias. If this kind of ideas are regularly initiated, gospel music will definitely gain it's place. Our ultimate motive is to get a vibrant band with beautiful voices who shall find pleasure in making music  for God"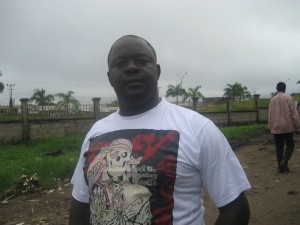 More photos on FACEBOOK
http://www.facebook.com/album.php?aid=287626&id=762842783&saved