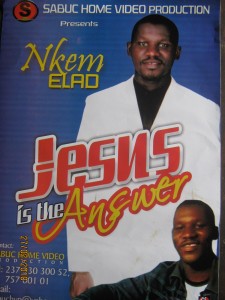 Apart from being a pianist,the 29 years old singer Nkem Elad is a prolific gospel sensation who has influenced the lives of many through his spirit-filled melodies.His debut album "Jesus is the answer" has spread around Cameroon virally and he keeps hitting the landmark.
"I love cool gospel, because i love to worship God so much. I come from a local enviroment where i find it difficult to really bring out what God has deposited in me (God has a perfect plan though) and also basic facilities that an artist should have i don't have. But i thank God for He has blessed me with an album and He keeps on blessing me with wonderful inspirations daily".
[audio:http://nexdimempire.com/wp-content/uploads/Track04.mp3]
CONTACT:237(79906137).
www.facebook.com/people/Nkem–Elad-Ebenezer/1225303071