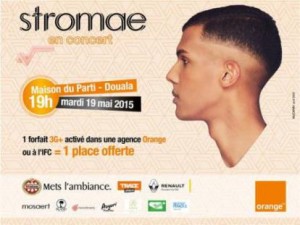 Belgian artist Stromae, shall have his first ever Sub Saharan African tour. From Rwandan origin this popular and well renowned artist will be in Cameroon on the 19th of May 2015 for the Orange Concert at Douala – Party Hall Bonanjo.
From his recent album "Racine Carre", the brain behind the hit singles "Papaoutai", "Alors on Danse", "Formidable" and several other songs, thought it wise to come in contact with his fans in Africa. Here are the dates of his tour:
19th/05/2015 –>at the party hall of Bonanjo in Douala.
23rd/05/2015–>at the open Air Heden Golf Hotel of Adibjan.
06th/06/2015–>Libreville Stadium.
10th/06/2015–>Palais des Congrès in Brazzaville.
13th/06/2015–>at théâtre de Verdure of Kinshasa.
20th/06,/2015–>at stade Amahoro of Kigali.
Orange Cameroon provides the opportunity for fans to get tickets to the concert, all one needs to is subscribe to an Orange 3G+ bundle and receive a ticket.
Have fun!