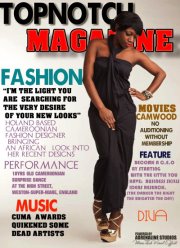 Top Notch Magazine is all about entertainment and is out to redefine stardom in the Cameroonian entertainment industry creating a landmark difference in the field.Dealing with music, arts, fashion, films  and all that's entertainment, the starmaker's goal is set as its organisers or interim board members  had their very first official meeting yesterday at Hotel Residence Carlos Muea – Buea.
At the end of the day, Gilbert Ayuk stands out as father and president, John Egyawan – vice president, Njang Raphael – Technical Adviser,  Honorine Ayuk – Secretary, Michael Ayuk as treasurer and Sarah Nkongho as PRO of the new born baby, Top Notch Magazine.
Some vital decisions were taken as to the regards of its publication,  TN mag will be published quarterly, it will receive adverts from all kinds of businesses putting affordability into consideration, not leaving out the profitability aspect.
Having so much to do as far as entertainment in Cameroon is concerned, TN mag has already registered some great successes in its previous works as in the February edition and has more to come y'all your way.
For more info on TN mag, visit: Topnotch Magazine