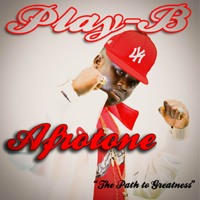 "Cameroonian/Holland based artist Play-B Stan drop's the video for the smash Jealousy(Mbolo Mbolo).With thousands of internet radio already playing this song and on 3 mixtapes in the USA and winning fans woirldwide, this song is a smooth blend of Afrobeat and Latin tunes."
Follow Play-B Stan on Twitter: @playb1 .
A Short Biography Of Play-B Stan
Born in Manyu division in Cameroon, from a musical background, Play-B Stan was raised by his grandmother. At age 15 Play-B Stan lost the only person in his life, his grandmother.
Life became an uphill battle on a daily bases. However, Play-B Stan refused giving up in life.
While in college, he was a member of the music club and with his dancing skills he used to perform live in school competitions which ended him alot of popularity.
Later on, he was a backup DJ for one of the top DJ friend at that time DJ Eze Jesus. He even started featuring in music videos as dancer like the one by Jonny Sandys.
Play-B Stan decided to develop his career as a singer/songwriter in Europe.
While he was in France, he visited friends in Holland who were already into music and since then, he has been working on his career nonstop.
His first producer was Amo from Medo Production and later one he met Lemuel from Cool Town Studio in Rotterdam.
Also, he met MB from Ghettoflow Production and together have been working on his projects till date.
The Birth Of A legend
In 2009 he released his album "The Birth Of A Legend" which sold a couple of thousands of cd's.
He kept doing the thing he loved (music) and has another album on his name: Afrotone.
With his ground braking choruses and great melodies, his music is making fans worldwide from Japan, India, China, Canada, USA and many other countries. He has come so far and he is not backing dawn. Furthermore, he has been able to work and collaborate with MB from Ghettoflow,
Tob Juland who is a famous french rapper, and Nasomi whose angelic voice have won her fans worldwide. Not forgetting one of the Dutch most talked about rapper Ra Shaun.
Play-B Stan started his own Record Label, Celebs Entertainment, and had to work and switch jobs to pay and promote himself and the label. He's the sole sponsor of his career though hard but he's doing it and finally going global.