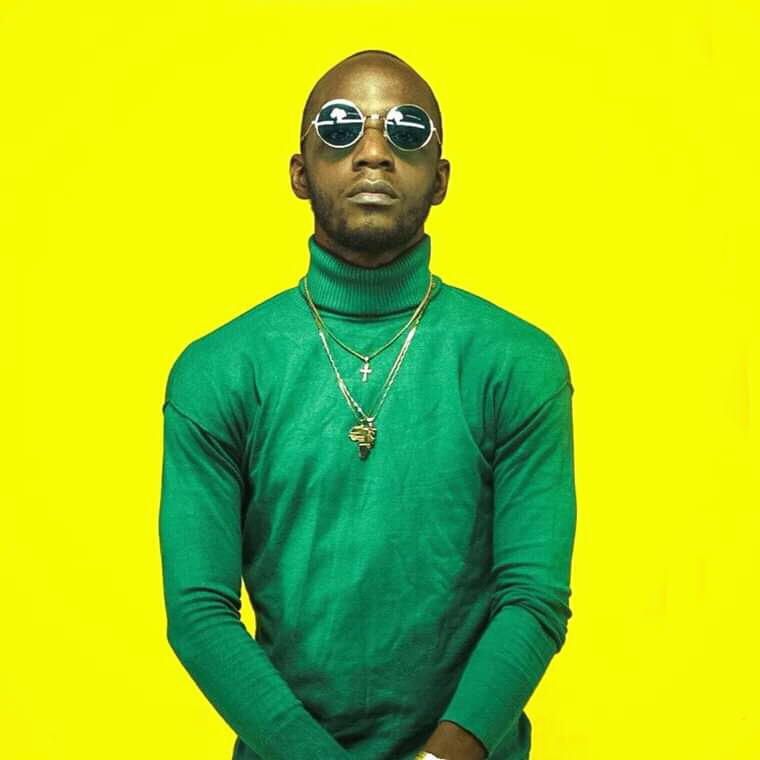 Jovi took the industry by storm in 2012 when he churned out his monster hit "Don 4 kwat", a tune which was allegedly plagiarised from Red Café's "Hottest in da hood". The title is even a witty translation to mboko pidgin.
https://youtu.be/Gmy-XQxhoTE
However, Jovi was ingenious and adroit to embroider highly contextualized and relatable lyrics, painting a picture of our day-to-day lives on thumping beats .
His unique style earned critical acclamation. The "H.I.V" album was phenomenal.
Though Buea-based rapper Dr Kapt had already released a pidgin-infused album tailored for the streets, Jovi brought in a more sizzling ingredient that popularized pidgin rap.
In 2013, when Jovi already thought he was in full possession of the kingdom's crown , Stanley Enow's "Hein pere" which is another allegedly plagiarized song (Story for another day) popped up creating a remarkable trend. The song catapulted the image of Cameroon urban music to international spheres clinching an MTV Africa win.
Stanley gained much admiration nationally and it seemed Jovi was no longer basking under the spotlight. Attention was drifting towards Stanley whose guerilla marketing and branding approach and entrepreneural skills changed the rhetorics.
I'm sure Jovi expected Stanley Enow to be loyal and submissive to him. But the "Bayangi Boy" who had conquered the minds of millions of fans, doing huge tours and grabbing lucrative endorsements decided to ignore Jovi.
Then came the feud between the two giants.
Jovi wasn't actually relegated because he was still doing well with his songs and had gained fidel following .
But his egocentric tendencies proved he wanted to get all the attention and didn't want to be compared to anyone.
Both artists have different approaches in the game.
Jovi has been building content and sound which he thinks will create an identity for Cameroon music. He has been vocal about those who are not original especially who copy Nigerian style of music. He has not been collaborative nationally and internationally . In essence, if you're not from his label, Jovi will hardly collaborate with you.
On the international arena, he's got nothing to show. Jovi even refused to turn up for an MTV award nomination.
He once said he had a song with Wizkid he didn't release. He's been spotted with J Martins, produced for Akon but no collabo.
This is the kind of opportunity Stanley won't let slide away.
Stanley Enow has been more business inclined. He's been collaborating with African music household names like Sarkodie, Tu Face, Davido, Mr Eazi, Ice Prince, Fally Ipupa, Diamond Platinum etc. His public and media outings have been mindblowing.
Following Stanley Enow's rise to fame, Jovi has decided to nurture what I consider a personality disorder which has today strained his relationship with other artists like Magasco, KO C, Pascal, Tzy Panchak, Mic Monsta etc.
He's got a narcissistic personality disorder ; one of several types of personality disorders.
It is a mental condition in which people have an inflated sense of their own importance, a deep need for excessive attention and admiration, getting troubled relationships. But behind this mask of extreme confidence lies a fragile self-esteem that's vulnerable to the slightest criticism.
Jovi wants to regarded as a god , to be given exaggerated importance and praises always showered on him as the best, the G.O.A.T etc. Reason why he claims he's the "Mboko god".
He's got an inflated ego that he'll never want to be bruised. We all know when M.I failed to mention him as one of Africa's best rappers. Jovi started a whole drama , ranting on Twitter as usual.
Jovi always has a sense of entitlement, requires constant and excessive admiration. He expects to be recognized as superior even without achievements that warrant it.
He's mostly preoccupied with fantasies about success, brilliance and strength . His supporters are not helping. They are just adding more salt to the injury. Most of them are blind followers. I call them "Blind disciples". "Mboko gang" admirers and supporters believe they are superior and like their celebrated icon belittle or look down on other artists they perceive as inferior. Jovi constantly gaslights Pascal , calling him names as "Socks seller" and many other hurtful innuendos. He insulted KO. C as a sarkodie copycat.
Jovi picked on Maahlox calling him to apologise meanwhile as a pure narcissist he'll never apologise to anyone. Good news. Maahlox didn't apologise.
Jovi's recent outburst on Tzy Panchak was just a deliberate act to smear the brand of someone who has done alot this year to uncover talents to the admiration of a myriad of fans. Is he just being envious of Tzy Panchak's speedy growth?
Jovi has criticised Stanley Enow's show in US for the low turnout and poor venues. He's now extending same criticism to Tzy Panchak. Can Jovi just mind his business and do hos own shows?
The criticism he hurls on Java Fest is just out of place. This is a festival that is gradually growing and garnering potential. It showcases Cameroon music which to many is laudable.
At this level, we should be commending such efforts and criticising constructively.
His recent derogatory remarks about Tzy Panchak shows he is arrogant or haughty, coming across as conceited and somewhat boastful.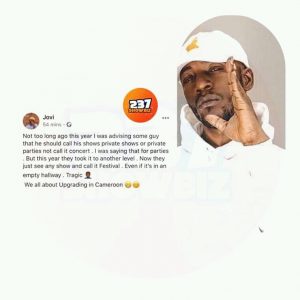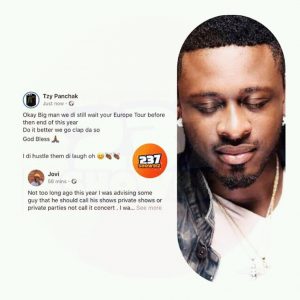 Tzy replied him as being a hater and that's evident. Even a fan who reached out to Jovi to say artists should be more united was blocked on Twitter by Jovi. Jovi actually blocks anyone thats talks anything negative about him.
He has significant interpersonal problems and easily feels slighted.
He reacts with rage or contempt whenever he is criticised.
Can Jovi just learn to regulate his emotions and behavior. He should learn to be selfless and support the growth of other artists who are not in his clique.
Our industry needs to grow through the practice of unity and mutual love.
Screenshots courtesy of 237showbiz.com