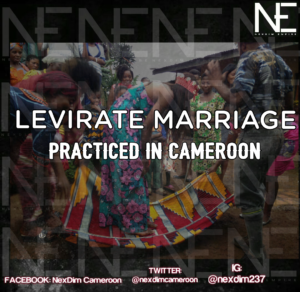 Levirate marriage is a type of marriage in which the brother of a deceased man is obliged to marry his brother's widow.
It has a biblical reference:
DEUTERONOMY 25:5-10;  "When brothers live on the same property and one of them dies without a son, the wife of the dead man may not marry a stranger outside the family. Her brother-in-law is to take her as his wife, have sexual relations with her, and perform the duty of a brother-in-law for her.
It is still being practiced by some tribes in  Cameroon like Mambila of North Cameroon, some villages in Manyu, North West and West regions under the premise that the bride price is paid by the husband's family.
Once bride price is paid on the woman, she becomes not only the wife of her husband but family property and so even if her husband dies, she is bound to marry one of her deceased husband's brothers.
PENALTY
Any widow who refuses to be part of this practice is denied the support of the late husband's family, she will undergo all sorts of humiliations and deprivations of her rights. She will be considered an outcast and will receive curses.
What is your opinion about levirate marriage ?
#nexdimempire