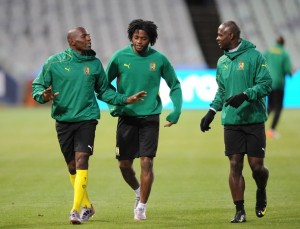 Rumours have widely spread that Alexander Song had a brawl with his captain Eto'o and has a misunderstanding with the coach.
According to  the Secretary General of FECAFOOT, "there is no problem of Alexandre Song in the Lions. For the match against Japan, the  coach said  Alexandre Song was not in good physical and psychological condition to give the best of himself. "
As for the alleged brawl with Eto'o, Tombi Roko Sidiki gave an ambiguous answer: "There has never been any outbursts between the two. There has never been a fight. It is true that the Cameroonians like it when there is chaos. I'm with the team since I arrived. I have not heard raised voices between the two. Now, if people who read the letters in envelopes, I'm not very gifted in this area… Maybe there are little problems between the two, but it is not seen visibly, "
This release coincides with Agence France Press (AFP) quoting the president of FECAFOOT: "Whatever the problems between the players, I do not think one has wanted to betray the country, not to do his job. " Iya Mohammed has also added "we do not need to be friends to play football and we do not ask them to go away together on vacation. But assuming that clans actually exist, the team is above personal issues.
It is clear that other factors, including the reprehensible state of mind of the player will not plead for him. It would be recalled that last March, against Italy in Monaco, he openly showed his displeasure at the non-call of his uncle Rigobert Song.
Moreover, his relationships with several national team players was rather strained and his attitude on and off the field is far from perfect. Like when he asks one of his teammates, older than him in national team, to get up from 'his' place in the bus.
Surely the football specialists agree on one thing: Alexandre Song Bilong remains a centerpiece of the device of the Indomitable Lions. As proof, his absence against Japan, June 14, at Free State Stadium in Bloemfontein, has left a great void in the midfield. The Cameroonian authorities present in Durban held a working meeting with the technical support. According to sources close to the team, the player at the center of the controversy could begin the match on Saturday against Denmark in Pretoria.
Samuel Eto'o declared on infosport in an interview that he did not have any brawl with this team mate Alex Song.
some excerpts courtesy of camfoot.com