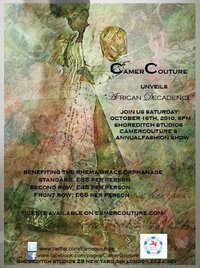 Their skills have made them household names. But next month, some premiership African footballers will use their star quality for a good cause.
Cameroon vice captain Enoh Eyong, Sedan's Marcus Mokake and Spurs stars Benoît Assou-Ekoto and Sébastien Bassong  are in the front row line up for CamerCouture – a unique celebration of African style to benefit Cameroonian orphans.
"We are touched and excited that our great footballers support this venture," explained event organiser, Cynthia Anduhtabe.
Scheduled to take place in London's trendy Shoreditch on Saturday 16 October, proceeds from CamerCouture 2010 will be donated to the Rhema Grace Orphanage in Ombe, Cameroon.
The spectacle's "African Decadence" theme is inspired by the continent's opulence and culture.
"We chose this theme because we want to portray Africa's unsurpassed beauty, its cultural richness and the way these aspects shine through fashion and art," said show coordinator, Soraya Sone.
The footballers will rub shoulders with diplomats and business leaders. They will also bask in the sounds of neo-soul singer Debra Debs.
CamerCouture 2009 introduced Londoners to the creativity behind Cameroonian labels, Anggy Haif, Olivia Ervi, KiRette Couture, RoViSa Design, Bot-i-Lam and Ms Mi. The well-attended event attracted coverage from various media, including the BBC.
But this year ushers in a diverse collective. From Nigeria to the Comoros Islands, fashion fops will experience dizzying colour and exquisite designs.
"Haute couturiers Yemi Osunkoya and Alain Martial Tapolo will join forces with ready to wear designers, Eki Orleans, Côté Minou and Deenola to rearrange London's fashion landscape,"enthused Cynthia Anduhtabe.
"We are very proud and excited to present this stunning expression of African chic and global influence," she added.
CamerCouture occurs against a backdrop of heightened media interest in and celebrity endorsement of African vogue. Michelle Obama, Beyoncé Knowles and Kelis are among stars recently spotted in African-inspired chic. Singer, Gwen Stefani also showed off an Ankara* dominated Spring/Summer 2011 collection for her label, LAMB at New York Fashion Week.
Cynthia Anduhtabe co-organises CamerCouture with Isabel Bezeng and Ngum Ngafor. The trio run Votre Avant Garde (VAG) – a PR and marketing company which produces innovative communications and marketing solutions for corporate and private clients.
Through CamerCouture, VAG seeks to:
-Build Africa's fashion industry by creating professional development, networking and collaboration opportunities for designers.
-Initiate talks with established international retailers and secure distribution opportunities for creators.
-Establish and enhance international regard for an often overlooked business sector and market.
-Empower local communities through innovative Corporate Social Responsibility (CSR) strategies.
Running from 6pm till midnight, the CamerCouture Fashion Showcase 2010 will take place at Shoreditch Studios, 29B New Inn Yard, Shoreditch, London EC2A 3EY.
The media gallery will include the BBC, Trace TV, OHTV, Voxafrica TV, New African Woman (French and English versions) and Amina magazines.
Tickets cost:
£35 – standard.
£45 – second row.
£65 – front row.
Prices include drinks reception, food and catwalk show charges. VIP guests will have the advantage of a "first look" at the catwalk and a one-on-one with designers. They will also enjoy an exclusive gallery lounge experience with champagne, waiters and the services of a dedicated VAG VIP wellbeing officer.
To purchase tickets and find out more information, please visit:
www.camercouture.com.
Learn more about the Rhema Grace Orphanage on:
http://www.vimeo.com/15052742
For media & sponsorship enquiries please contact:
Ngum Ngafor
Tel: 00 44 7944 043 954/ 00 44 7587 974 338
Email: ngum.ngafor@camercouture.com
Or ngum.ngafor@googlemail.com
Isabel Bezeng
Tel: 00 44 7733 735 515
Email: Isabel.bezeng@camercouture.com
Or ibezeng@gmail.com
General Enquiries:
Cynthia Anduhtabe
Tel: 00 44 7834 321 373
Email:Cynthia.anduhtabe@camercouture.com
Or camercouture@yahoo.com
Join the "Camer Couture" face book group on:
http://www.facebook.com/home.php?ref=home#/group.php?gid=113761297439&ref=ts
Follow us on twitter at: http://twitter.com/CamerCouture