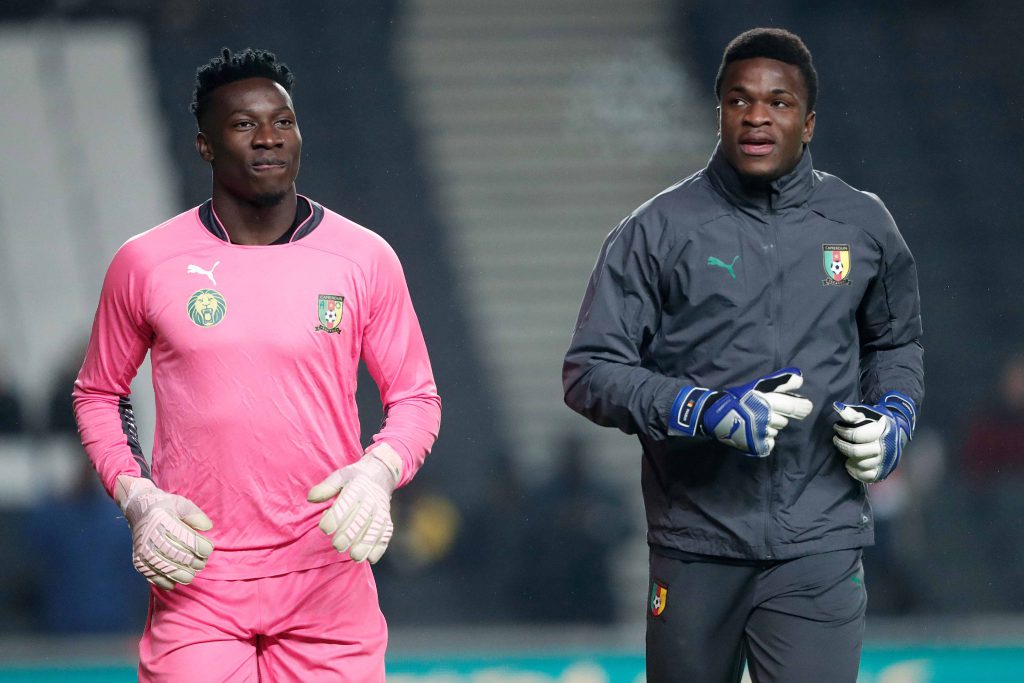 Social media is buzzing with some netizens clamoring for the return of Fabrice Ondoua, whose bravery and skill let Cameroon to triumph at the 2017 Africa Cup Of Nations.
Unfortunately, according to many football pundits an inactive and clubless goalkeeper cannot be fielded to the detriment of active goalkeepers in good shape like Onana, Devis Epassy and Omossola.
Ondoua has had career spell since he was fired from KV Oostende for organizing a party during lockdown. However, some Cameroonians hold the opinion, he is better than Onana in Cameroon's jersey.
Antonio Conceicao's first choice, Ondoua's cousin Andre Onana has been criticized for his jocular style of play, lack of focus and unseriousness during the game. Contrarily, some Cameroonians have congratulated his style of play as being modern day goalkeeping.
Andre Onana just signed a transfer deal to Inter Milan as a possible first choice goalie considering his stellar performances at Ajax over the years.
Andre Onana has exceptional qualities but his weakness is what some Cameroonians have been highlighting.
Onana has been very good with reflexes, shot-stopping and stunning with ball retention ratings at the international stage. His good positioning and footwork gives him a leverage to make so many saves.
Onana, can dribble the ball forward much more than many goalkeepers in the world and a, more active defender.
Onana is considered a 'sweeper-keeper'. Onana is very calm and confident. He takes risks to get much further forward, where he tends to use shorter passes from the middle of the pitch. Most football analysts believe it's a good attribute for a goalie, who can serve as sweeper off the ball or a CCB-like distributor on the ball. Bayern Munich goalkeeper Neuer even described himself as Onana's "biggest fan" on Twitter.
ONANA'S WEAKNESSES
Some Cameroonians are not happy with this adventurous and over-confident play style especially with Cameroon's unconvincing defence. He does this at Ajax because their opponents do not usually press hard on them especially with a great defensive block.
Another weakness Onana has is that he
misjudges the flight of the ball after crosses from the flanks. For instance during the match against Burkina Faso, the cross from Bertrand TRAORE was misread by Onana which led to a goal by Sangaré.
Onana's long passes are also not precise and unnecessary. His left foot is another weakness. Attackers usually press hard on him to use his left foot because the passes will be inaccurate.
Overall, Onana has the potential of being the best goal keeper in the world if he works hard on his Achilles heel.
#nexdimempire