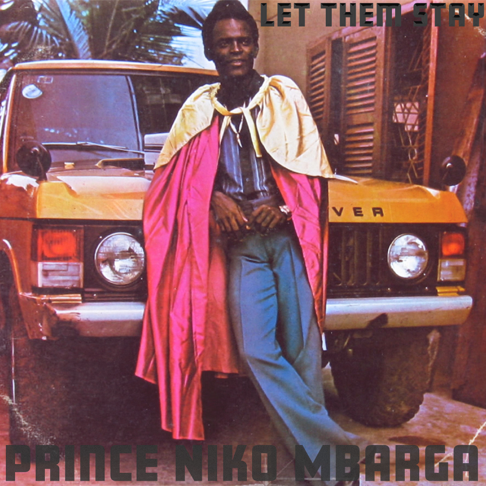 Remnants of one of Africa's iconic musician Prince Nico Mbarga are gradually fading like the taper of a candle.
Startlingly, the Cameroonian musician sold at least 13 million copies of his 1976 hit "Sweet Mother," across the African continent but his life and exploits are sparsely documented.
Statistically, "Sweet Mother" sold more than The Beatles' second bestseller "I Want to Hold Your Hand" and "Macarena" by Los Del Rio.
Prince Nico Mbarga was born in Abakaliki to a Cameroonian father and a Nigerian mother on April 8, 1950, but raised in the Cross River town of Ikom, which shares borders with Ekok, Cameroon.
He grew up listening to highlife music from Bobby Benson's "Taxi Driver," to EC Arinze's "Saturday Night," to Rex Lawson's "Yellow", which influenced him to start creating his own sound.
His father, who was an adept xylophonist taught him the instrument, a handheld version with metal tines plucked by the thumbs.
Prince Nico built his own xylophone from dried-out plantain skins and scooped bar.
As a teenager, he started playing in small villages around Ikom and in 1967, fled Nigeria due to the Biafran War.
Prince Nico resided in Mamfe, where he met his first love Lucy (currently lives in Ikom).
While in Mamfe, he served as "band boy" for a Congolese Cover band, carrying instruments for concerts at hotels in nearby towns.
Prince Nico Mbarga developed penchant for Congolese music with its staccato guitar, spontaneous spoken asides and high-pitched harmonies.
After the Biafran War ended in 1970, he returned to Nigeria to relaunch his music career.
In Onitsha, he formed the group, Rocafil Jazz, signed a contract to play every Sunday at Onitsha's Plaza Hotel.
In 1973, he became the first Cameroonian artist to work under EMI , a subsidiary of Universal Music and recorded his first hit "I No Go Marry My Papa"
After this first hit, Prince Nico's career stalled due to his inability to produce another hit.
He was consequently dropped by EMI for failing to create any other commercial hit.
In 1974, he wrote "Sweet Mother", an expression of love and gratitude from a son to a mother.
"Sweet Mother, I no go forget you. For this suffer way you suffer for me ….When I dey hungry my mother go run up and down , she dey find me something way I go chop oh! " .
An ode that has been timeless and the most played song in African ceremonies.
"Sweet Mother", released under Roger All Stars received massive radio airplay and enabled Prince Nico Mbarga to garner fame across Nigeria. .
He later toured in Togo, Cameroon, Cote D'Ivoire, Ghana, Benin and Burkina Faso and Kenya.
Coming back from a demoralizing tour in the UK in 1979, coupled with a mundane money dispute before their scheduled trip to Japan, Rocafil disbanded.
Not much money was made from his breakthrough record "Sweet Mother", which suffered from piracy.
With the meagre earnings he made from the hit song, Prince Nico Mbarga built the Sweet Mother Hotel in Ikom.
He went on to release 17 albums after "Sweet Mother", which were not successful.
After a 10-year hiatus from the music scene, Rocafil band members were back together and planned a 50-state US tour.
According to "Narratively" (documentary of his life), he was on his way to get visas but his car ran out of fuel. He hopped on a motorbike to complete his journey. He was knocked down by a car.
After being hospitalised for two weeks, he passed on.
His mother died shortly after getting the news of his son's death.
Today, the compound where Prince Nico lived during childhood has been demolished, the multi-track recording session of "Sweet Mother" have been thrown away and his investment Sweet Mother Hotel is now under different ownership.
The only memory of Prince Nico Mbarga in Ikom is a gold-plated statue of him holding a guitar on a plinth and staring at the "Mbarga Junction".
"Sweet mother" remains the most evergreen African song of all-time.
His music lives on.
#nexdimempire