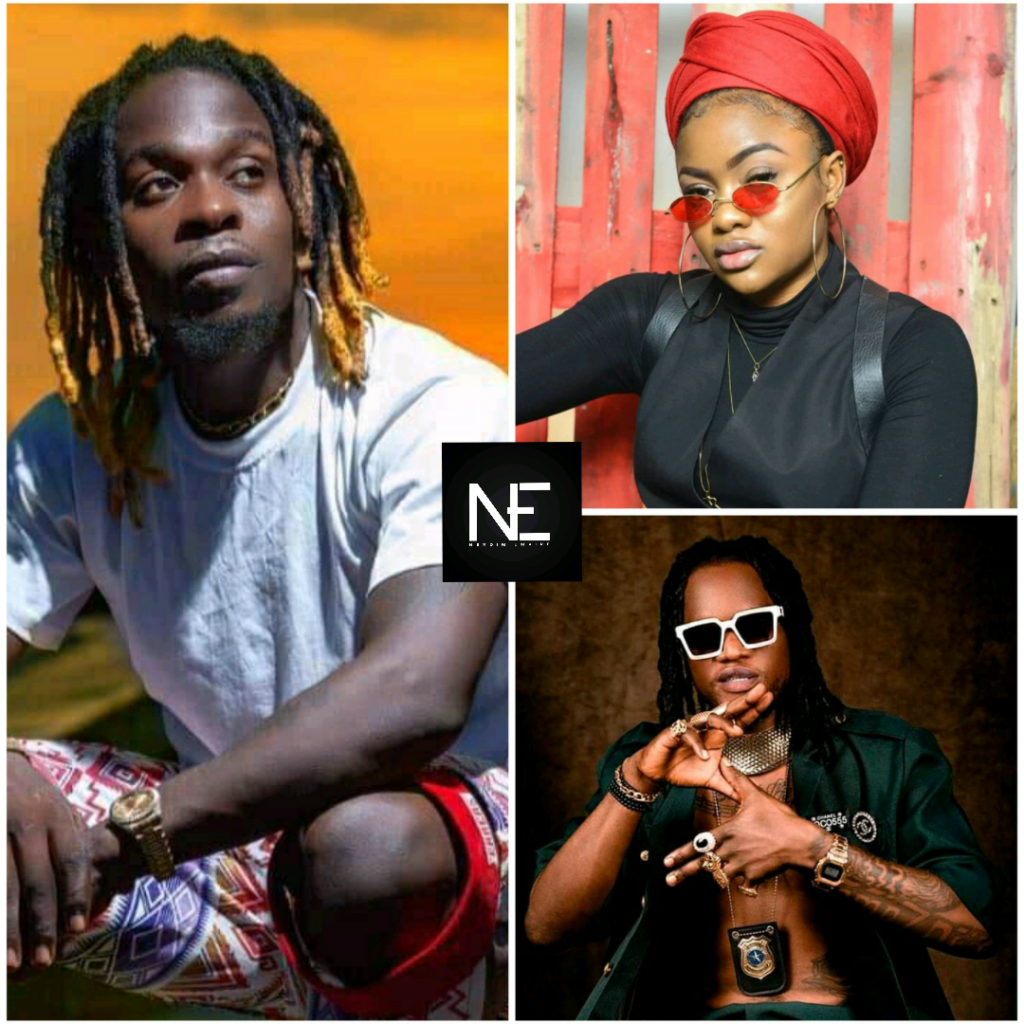 "Ignorance impatience were the two things that really affected them.  But at the end of the day, wherever they are, if they are fine. I'm fine" – Mr Leo
ABOUT SALATIEL AND LEAVING ALPHA BETTER
"That's someone I hear alot of theories about. People don't know. I had a conversation with Salatiel, I literally sat with Salatiel talking how to make my next move. Even Gomez "Ca ne vas pas" was produced by Salatiel. That's to tell you how connected he was with everything"
ABOUT KAMENI AND HER DISMISSAL FROM ALPHA BETTER
Mr Leo stated that Salatiel was quite willing to work with Kameni but the opportunity was marred by her, getting pregnan
"I started with Kameni because I knew her from way back, I pretty much invested time in curling the way she sings.Thats to show you how much I got her back. I didn't sign her. I didn't feel ready. I didn't have enough finances. Didn't have enough connects. So I took her to Alpha Better records rather. So she was signed to Alpha Better before Lionn Production.  I preached her gospel to Salatiel . Three months later she got pregnant. That's what spoiled the deal.  Salatiel is a straight-forward person and he is about work, no distractions
I had to wait for her to go through the pregnancy. When she was pregnant, she lived with me for a couple of months before the father of the child came and they moved out. When she gave birth, I was ready. I had the finance and the connect
When she gave birth, we started and that's when you knew Kameni. About four years back, I was preparing her . That's why she is the video vixen for 'On Va gerer".  She's in "Jamais Jamais",  She's in "Kemayo".
ABOUT GOMEZ AND CONTRACT
I brought in Gomez. I loved what I saw in him. I saw how curious he was to learn how showbiz operates and how to do stuffs. We started getting close and I decided to take him in full time.  That was me passionate about fodging someone ahead not necessarily about business. But now, for that motive to be right, I needed to start doing business. We worked for 3 years and we only signed contracts last year in January. But for the past 3 years I had been spending alot of money. It takes a lot of money to produce an artist
I was on some 6, 7 to 8 million francs every three months. I had to shoot videos for Kameni, Gomez and shoot for myself. With no contract. That's to show you how deep my ambitions was to fodge another. Life happens. It didn't work like I planned. Everything started going south after we signed a contract. I realized I was using emotions to do something that is supposed to be done properly as a business. We had to run as a company. We were losing business. Only paper work shows that Kameni or Gomez are my artists. If someone calls from Gabon, saying they want Kameni for a concert. What shows that she is my artists ?. It's when we opened up that paperwork part that everything went south. They didn't want it. And secondly, they didn't understand, they are not used to paperwork. It's more of ignorance. They were used to me doing stuff for them as their big bro. The moment they started making some money we had to start doing business. Paperwork meant control.  Any structure without rules is chaos. Because of their ignorance they misunderstood what paperwork is. I succeeded with Salatiel because of who I am. Me and Salatiel didn't have a contract but respected each other from day one till the last day. The mistake I made was that people will behave the same, think the same. I thought everyone was like me. That situation proved to me that; Because you do not hurt people, don't close your eyes thinking they will not hurt you. The first who took off was Gomez. Ignorance impatience were the two things that really affected them.  But at the end of the day, wherever they are, if they are fine. I'm fine
Transcribed by NexDim
Source: Lyonga Darling interview with Mr Leo on Dash TV .