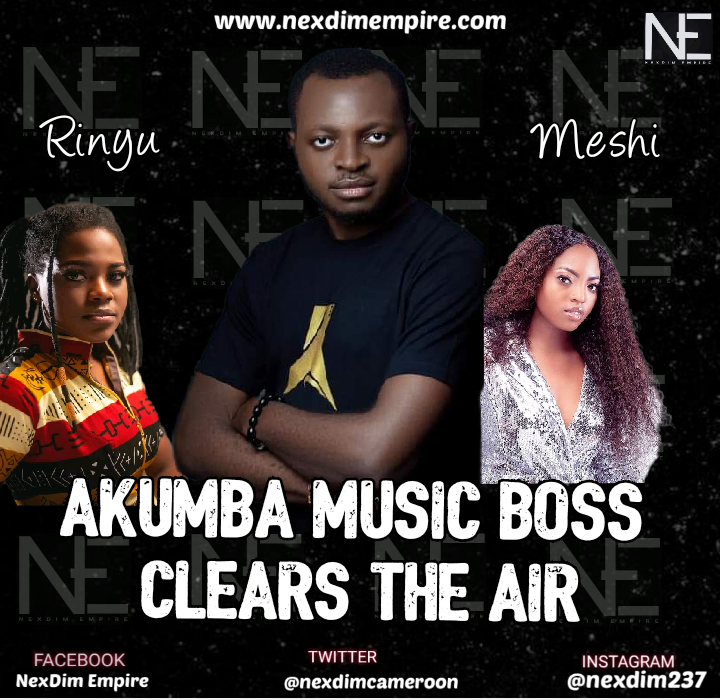 Akumba Music boss Achu Normad has promptly reacted to the ongoing kerfuffle surrounding Rinyu's alleged refusal to collaborate with Meshi.
According to him, Meshi wanted they should co-write , compose the song together and choose a beat to sing on but her proposal didn't align with the modus operandi of Akumba Music. They preferred she should send a demo record with Rinyu's space to make the work easy and timely .
He clarified the following;
" 1. Rinyu Never discussed a Collabo project with Meshi. When Meshi reached out to her, she immediately directed her to me. She did not discuss with her. When the first few lines of text came in, she immediately directed her to me. In fact, Before yesterday she didn't even know the outcome of the discussion I had with Meshi's team.
2. Meshi's manager made contact with me. I expressed my interest in the project by asking him to send the song so that we can listen to it and get in the spirit of the project. He said there's no song yet and that Meshi wanted them to compose together since she is working on an Album. He proposed that they go to the studio together, pick a beat and write the song together. I told him we don't work like that at Akumba Music. I suggested it'll be better he sends the demo song that's already been recorded, with some space that Rinyu can vibe on. This will make the work go easy and timely. I even told him Rinyu is working on an album as well and already has a huge workload, so it'll be quicker and easier that way. He still maintained that he would've wanted them to write and work on the song together and that since Rinyu is not available for that, we will try again sometime in the future. That was it.
3. I didn't say No to the request. I expressed my desire to be on the project by asking for the song she wanted my artist on. It turned out they didn't have a song. Rather, they needed her services in writing and composing from scratch.
Imagine how surprised we were hearing Meshi tell the world that Rinyu told her to go to the studio and record. Rinyu doesn't talk to her, they have never talked. They don't text and they are not acquainted. Also, Rinyu doesn't make decisions at Akumba Music and she didn't even know about the outcome of my chat with Meshi's manager.
At Akumba Music, we pride ourselves in our branding and quality of music we put out. We take time to work on every song to deliver a master piece. We don't freestyle and record in the studio, we compose our music prior to recording. Whenever we approach anyone for a Collabo, we have a completed song with space already provided for the artist we desire to work with. Last year, we approached Ko-C with a song already done. He listened and connected to the project and then recorded his verse and sent it back and we created a masterpiece (Feeling You). It makes work so easy. That's our method and we believe it's the right way to go about it.
We are wrapping up with Rinyu's album and we have about 5 collaborations on it. We got all these Collabos by sending the songs to the artists and they listened to make sure it's their vibe, matches their brand and image. We believe in building the industry in a professional way. When I need an artist on a song, I even use the already made recording to charm the artist ?. When we sent "Affaire D'amour" from the upcoming "Blackgirlmagic" Album to LYDOL, she was so carried away by the song that she couldn't wait to record her part. She got to the studio excited and very ready. We recorded everything in about 1 hour max. That's how it should be done guys.
Again, I only made a statement about this because I prioritize the 237 Entertainment industry's growth. We are at a delicate state and we need to work together to build. Collaborations are the key and it's important you guys know the facts why this one didn't happen.
All the best to Meshi and her endeavors.
237 Entertainment for the win
Achu Normad
CEO, Akumba Music LLC "
#nexdimempire