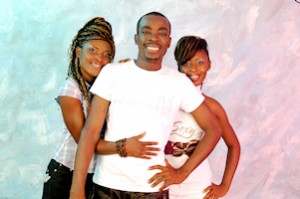 BA2M is a  Cameroonian R n B,Rap and afro-beat group best known as winners of the prestigious Nescafe African Revelations (NAR)2008. The group is presently about  to release its debut album.NexDim caught up with Buea based trio for a brief  exclusive interview.
NexDim:good morning.Can you please let the world know your names.
BA2M:"Chah Mabel, a student, Akum Adèle,a university graduate and  Ewah Lawrence, sound engineer at M1 Studios".
NexDim: Can you tell us how your music career all started
BA2M: "we all started singing quite young,in the church choir and many other events.Larry has been singing with his acapella group F-Denel ,while Adele has been a singer at the Alliance Franco-Camerounaise cabaret. our whole career had a boost when the Nescafe African Revelation 2008 edition was launched".
NexDim:how did you meet each other to form a group
BA2M:"Before the talent search competition was launched,we had been  working in the same recording studio as back up vocalists and myself(Mabel) and Adele had been childhood friends."
NexDim:when was the group created and what does the name signify?
BA2M:"The name was derived from  the initials of our names.B for Bemo(who is winner of the Mutzig National song competition)who left because of the competion,A for Adel,2 for Larry and M for Mabel.Before,Adele and myself had a group dubbed RAM still on the basis of our initials.R is the initial of a member who left the group. so the name is derived from our initials"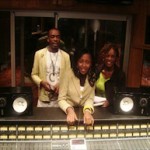 NexDim:Tell us about the Nescafe African Revelation adventure.
BA2M:"we started off this competition timidly without any seriousness and took it for granted and became serious when the competition got to the national level.We were winners at the national level amongst all the regional contenders and we became very anxious to know the national winners in other countries for the continental finals .We were reassured by our coach Emile Ngumbah to be confident and bring the trophy.It is in that faith that we became winners of the Nescafe African Revelation 2008 that held in Ivory Coast.we were so happy to be the best in Africa"
NexDim:Tell us about your album
BA2M:"we are preparing an album of 8 songs with an intro included which is a gospel song.The album has already been recorded  sometime in February.So right now we're just doing some modifications.When the album is released you interested people can contact CY Entertainment for copies or for booking"
NexDim:after winning the competition,you have traveled to Paris to produce a single "stand up" and a tour.Has this been so fast for you?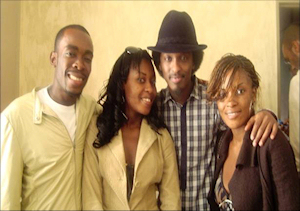 BA2M:"we are not amazed at the pace we have used to achieve all this things because we have always dreamed of this and music is our passion.We were also very excited to work with an amazing producer Wayne Beckford"
NexDim:what is the new style you are bringing that will be different from the ones we have been listening to?
BA2M:"We are trying to be dynamic and to bring an ideal style that will be unique  and original.we try to create music that everybody will love"
NexDim:what is your last word to the fans and how can they contact you?

BA2M:"we would like to tell our fans to be patient and wait for the official release of our album and for them to be supportive of our goals.We also thank them for being committed to us from the start to this moment.To contact us they could go on facebook and search  BAAM NESCAFE or write us on baam64@yahoo.com or baam_nar2008@yahoo.fr
To watch their video "stand up" follow this link:
www.youtube.com/watch?v=FEYqDF8yhlU