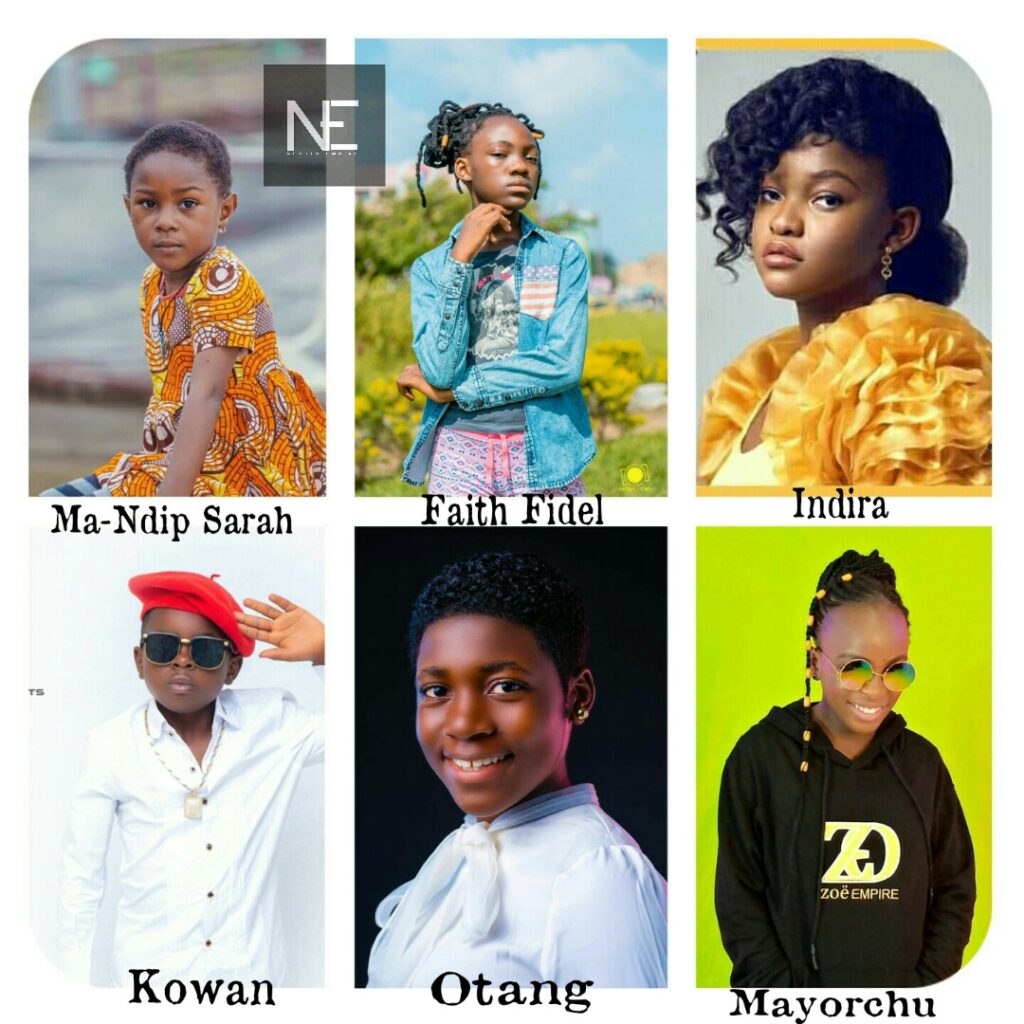 Cameroon's burgeoning entertainment industry has been making landmark progress and kid celebrities have been contributing to complete the pie.
After the exploits of the teen group Rumta that wowed the Cameroonian audience with fascinating music releases like "Pam Pam be" in the 90's, here comes 6 outstanding kid celebrities making a remarkable impact in the entertainment sphere.
1. Ma-Ndip Mbi Sarah
She was born with above-average natural abilities to bring out humour and play scripted roles in "Mandip Comedy" produced by Mr Adrenaline. The sarcastic and satirical comedy has  garnered a huge fan base across Cameroon. Her career looks promising .
2. Faith Fidel
Faith made a significant appearance in Cameroon's biggest film in 2019, 'Saving Mbango', taking on a supporting role as the younger sister to the male lead character, John. The young star is now the lead in two of the biggest and most anticipated films to be released in Cameroon in 2020; 'The Fisherman's Diary' and 'Where I Come From' (produced by Tessy Esseme).
"In both films, she is a breath of fresh air, delivering stunningly nuanced performances that give her adult lead co-stars – Kang Quintus and Anurin Nwunembom – a run for their money, intelligence and talent" – writes Kwoh Elonge, owner of Unfiltered blog.
3. Indira Baboke
The young gospel singer has been releasing chart-topping gospel hits since her debut in 2012 . She has collaborated with Ivorian star Serge Bernaud on "J'aurai la victoire" (2019) . He biggest hit has been "Le gout De ca" released in 2019.
Her dulcet voice and charisma has been breathtaking .
4. Kowan
Kowan became a much-talked about kid sensation when his freestyle on Nigerian Afro Beat singer Ycee's Jagaban instrumentals went surfaced and went viral on the internet. He became more famous when he participated in the first round of 237Showbiz Music Competition, recording over 44.000 views.
He has been endorsed by legendary footballer Samuel Eto'o as a formidable gifted kid.
5. Otang
She is incredibly talented. Managed by artist Galaxy J One, Otang has captured the minds of the Cameroonian public with her wordplay, verve, charisma and versatility. She came to the spotlight in 2018 when she dropped "Game changer" a remix of Dr Dre's classic "Still Dre". Since then she's released "Victims" and "Until I win" feat. Galaxy J One.
She is brand ambassador for Otantik Cosmetics .
6. Mayorchu Atem Ebai
Mayorchu is multi-gifted . She's a model, actress and singer.
In 2017, Mayorchu Atem Ebai won the Best Young Talent at the African Film Festival in Dallas, USA with the movie E'Do (Enough).
She has played mindblowing roles in the movies "Little Cindy", "A good time to divorce" and "The Fisherman's Diary".
As an artist, she debuted in 2020. Mayorchu has released "Un jour" and "Dingue".