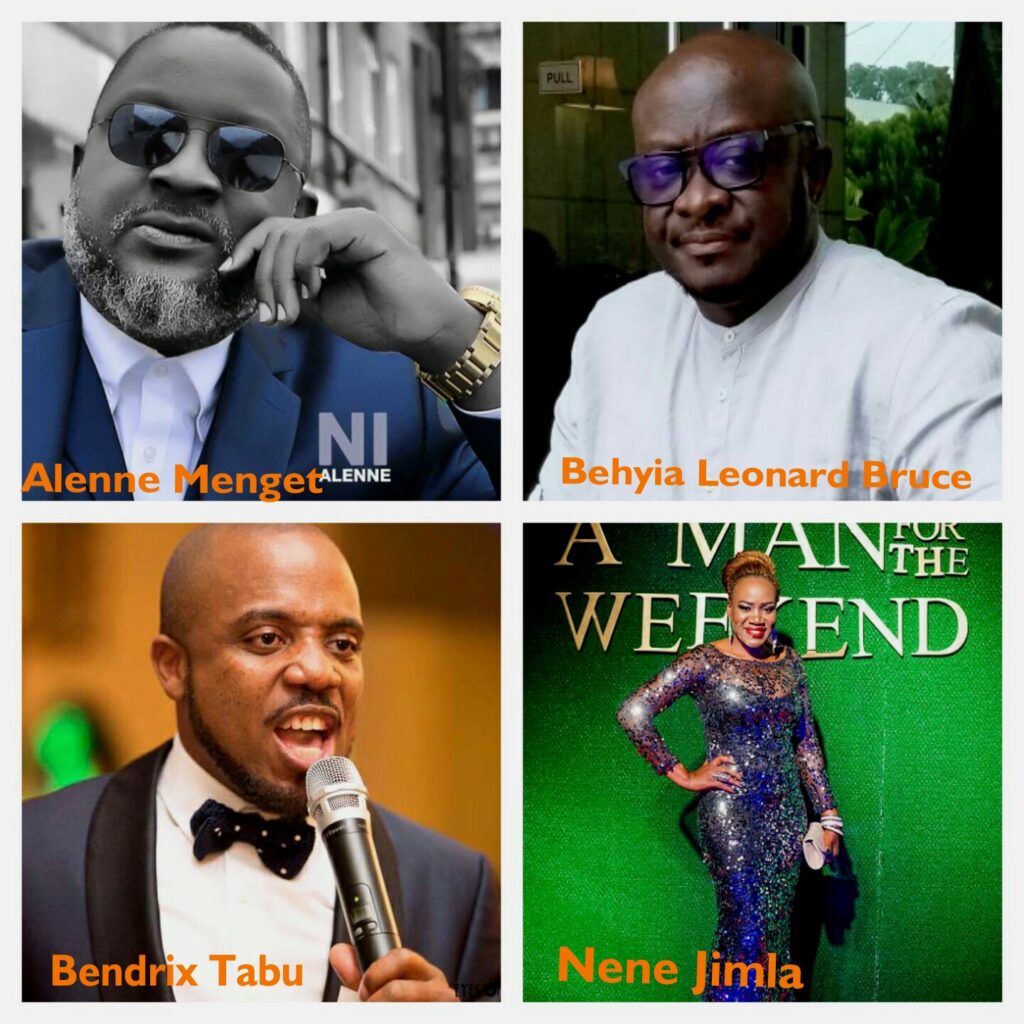 We delve into the careers of Cameroonian MCs who are worth a king's ransom. Impresarios  with incalculable worth and possess the knack to speak seamlessly and electrify an audience during weddings, anniversaries and high level corporate events.
The venue , decoration , food departments might be fulfilling during an event but the MC is the one who completes the picture. They usually anchor, sometimes facing an audience they barely know , an audience with  eyes of judgment, waiting on the MC to pomp up their emotions. These 4 Cameroonians heavyweights Alenne Menget , Behyia Leonard Bruce, Elmer Shadzeka Nene Jimla and Bendrix Tabu are MCs with remarkable international value.
Alenne Menget
"Ni" Alenne Menget can be referred to as "Jack of all arts" . With a  broad expertise and breadth of experience as radio/TV host, comedy , acting and master of ceremony, he has hoarded a wide following across Cameroon and the diaspora. Alenne Menget worked with Afrique Nouvelle, Abakwa FM before creating Ocean City radio in Kumba, Limbe and Douala. He has served as editor in chief and mastered TV production.
He is a successful MC, entrepreneur and actor.  In 2018, he won Best African Actor in the Golden Movie awards. He also clasped The Best African Actor at Cannes France and Best African Actor London Nollywood Awards.
He's got an exceptional sense of humor, equipped with the right mindset to  engage an audience , displays  outstanding stage coherence, lexical resource and fluency. He is a compere you should yearn for your event to be memorable .
BEHYIA LEONARD BRUCE
Lenny B Behyia
Amongst a hantle of  MCs in Cameroon, Behyia popularly known by the pseudonym "Tonton Behyia" has earned relevance and materiality over the years. He is versatile, gifted and equipped with abundant communication experience , which has established him as one of the most expensive MCs across Central Africa. He is high-priced equated to his unparalleled value. He is that wedding MC you should pay for.
For over two decades, Behyia has garnered fame and his input in the media ecosystem has been phenomenal. His unmatched fluency in English and French , quick wit , comic expressions and ability to elicit excitement in his audience, makes him an unforgettable MC.
Behyia has been impresario for a myriad of sophisticated  weddings and corporate events across Cameroon, Europe and America. And the testimonials are mind-blowing.
He is a corporate social responsibility consultant for banks, oil companies and airline companies.  His impact in triggering the growth of urban music in Cameroon is worthwhile, contributing in bringing to the spotlight artists like Me Leo, Salatiel and being a mentor for ace radio personality Nabil 4 Real (Nabstar).
Behyia possesses massive social media following, wide organic reach with his breathtaking Facebook Live show dubbed  "The Behyia Show" ; based on building better relationships , building self-esteem and charity.
Having served as station manager at RTM/LTM, served as the only Anglophone station manager at FM 105 Suellaba, standing high in corporate media consultancy, Behyia is one of the most sought-after MCs from Cameroon. Behyia has been voice-over artist for reputable corporations like Orange Cameroun, Guinness and MTN Cameroon. He is worth spending your money for.
ELMER SHADZEKA NENE JIMLA
Elmer Shadzeka Nene Jimla is a prolific TV personality and international MC. She is a graduate of ASMAC and IRIC.  Her wide range of experience , articulation, eloquence , charisma and irresistible charm makes her an MC to pay for.
Working with CRTV and having hosted the primetime TV programs "Hello" and  "Tam Tam Weekend" and today "Discovery" has positioned her as one of the most solicited and popular media personalities. She's been MC for several movies premieres including "A Man For the Weekend" and hosted events in the US.
Jimla Nene is that MC you should have at your event.
BENDRIX TABU
Bendrix is one of the most generally desired and refined Cameroonian MCs in the diaspora. His showmanship , adroitness and sense of humor are sterling qualities he exudes. He has been impresario for a myriad of weddings and corporate events and the audience consider his artistry laudable. I wowed at the testimonials I read about his mouthwatering delivery at events.
Penned by #nexdimempire