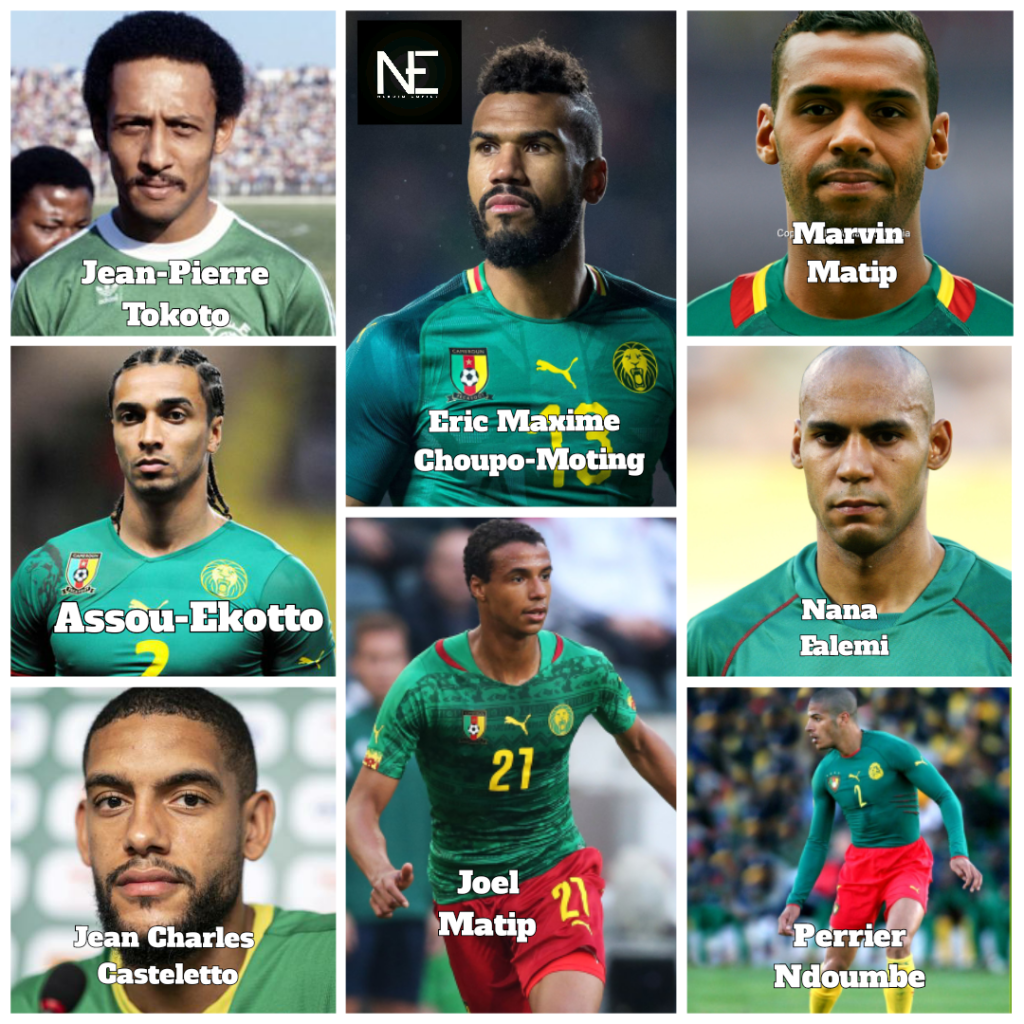 1.JEAN-PIERRE TOKOTO (Cameroon and France)
Born in 1948, he is a retired footballer who played for Cameroon at the 1982 World cup in Spain. He is a former player of New England Tea Men, Jacksonville Tea Men and Philadelphia Fever. He was selected by CAF in 2006 as one of the best 200 African players of the last 50 years.
He is now the coach of a a youth team in Rockford Illinois called "Lions '82 SC" .
2. ERIC MAXIME CHOUPO-MOTING (Cameroon and Germany)
Jean-Eric Maxim Choupo-Moting is a professional footballer who plays as a forward for Bundesliga club Bayern Munich. Choupo-Moting earned his first call-up for the Cameroon national team on 11 May 2010. He has scored 18 goals for Cameroon.
3. MARVIN MATIP (Cameroon and Germany)
He is Joel Matip's older brother. He made his international debut for Cameroon in a friendly match against Ukraine on 2 June 2013.
Matip made his professional football debut with VfL Bochum in 2004, and he transferred to FC Koln in 2005 and FC Ingolstadt 04 in 2010.
4. ASSOU-EKOTTO (Cameroon and France)
Born in 1984, Benoit Assou-Ekotto played as left back for Cameroon. He participated in the 2010 World Cup in South Africa and 2014 World Cup in Brazil. About his choice to play for Cameroon to the expense of France, he told The Guardian;
"Me playing for Cameroon was a natural and normal thing. I have no feeling for the France national team; it just doesn't exist. When people ask of my generation in France, 'Where are you from?', they will reply Morocco, Algeria, Cameroon or wherever. But what has amazed me in England is that when I ask the same question of people like Lennon and Defoe, they'll say: 'I'm English.' That's one of the things that I love about life here"
5. JEAN CHARLES CASTELETTO (Cameroon and Italy)
He is a central defender who played youth international football for France before deciding to represent his mother's country Cameroon in 2018. He currently plays for Nantes in the French League 1. He was part of the national team that won third place in AFCON 2021 and beat Algeria to qualify for the 2022 World Cup in Qatar.
Talking to Journal Du Cameroun, he said ;
« I grew up with Cameroon in my heart. I have the chance to go regularly to Cameroon since I was very young. I have Cameroonian roots and I knew that at one point or another, I was going to move towards the Lions. For those who know me well, they know that Cameroon is something very big for me […] Playing with Cameroon is a very good thing. This is the best that could have happened to me "
6. JOEL MATIP (Cameroon and Germany)
Joël André Matip is a professional footballer who plays as a centre-back for Premier League club Liverpool. On 2 March 2010, aged 18, Matip opted to play his international football for Cameroon.
He was part of the Cameroon squad at the 2014 FIFA World Cup, where he played twice and scored Cameroon's lone goal of the tournament against the host team Brazil.
7. NGASSAM NANA FALEMI (Cameroon and Romania)
Ngassam Nana Falemi is a former Cameroonian footballer who played as a defensive midfielder. Nana Falemi played just five games at international level for Cameroon, making his debut on the 27th of March 2003 coming in as a substitute for Bill Tchato in a friendly which ended with a 2–0 victory against Madagascar. He was part of the Cameroon squad that reached the final in the 2003 FIFA Confederations Cup.
He is now involved in youth talent development in Romania, where he was born.
8. PERRIER DOUMBE (Cameroon and France)
Jean-Joël Perrier-Doumbé is a former footballer who played as a right-back for Cameroon. He earned 20 caps for Cameroon. He was part of the Cameroon squad that clinched a silver medal at the Confederations Cup in 2003.
#nexdimempire