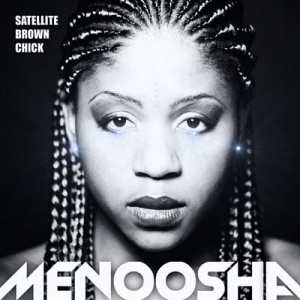 ARTIST: MEENOSHA
GENRES: R&B / ROCK / SOUL / HIP HOP / AFRO-FUNK / ELECTRONICA
ALBUM:SATELLITE BROWN CHICK
"I'm Satellite Brown Chick…I'm a Satellite Brown Chick"….I can go on and on!!! Meenosha's new album "Satellite Brown Chick" is an excellent blend of Rock, Hip Hop, Electronica, R & B & Afrofunk with an 80s flavour!!
Menoosha is known in Europe for the release of three songs:
– "Givin it up" which appeared on the successful sampled "Mercedes Benz Mixed Tapes" in 2007
– "African Boy", a reprise of Estelle and Kanye West's "American boy", featuring Ghana-born MC M.anifest,which was critically acclaimed especially on Youtube, Africanhiphop.com
– "Movin as one" as Skoda's promotional song for their new car creation in 2008. Besides being active with studio work, she was also one of the lead vocalists in Funk/Soul bands, US2U and LABANA in SouthGermany.
Produced by Dario Allegra, "Satellite Brown Chick" was recorded and mixed at POWW Studios in Altlussheim, Germany and will be released independently through Daraja Recordings on February 27th, 2010.
"We definitely wanted to release something almost genreless". The album carries the spirit and expression of what Menoosha feels as she sings on the Rock'n'Roll flavoured album titled track.
TRACK LISTING
Pentecostal Blues (Intro)
Satellite Brown Chick
X Thousand Miles
Talk to Me ft Dario Allegra
Crumbs of Love
Don't Touch My Stereo
Get By
Superhero ft. Manifest
Sweet Beulah Dreams
Order a Friend
Giving it Up
Chumakuana
Wayoo
The album opens in a pentecostal atmosphere that Menoosha enjoys in her private life. While Dario Allegra demonstrates the true talents of a Multi-Instrumentalist, Producer, Arranger, and Singer (on "Talk to me") on this album, Menoosha displays her vocal versatility. On "Get by", "Don't touch my stereo", "Superhero" or "Satellite Brown Chick" she showcases the grittiness of her vocals. This earned her comparisons to Mother's Finest's "Joyce Kennedy"and En Vogue's Dawn Robinson. "Talk to me", "X-thousand miles", "Order a friend" and "Sweet Beulah Dreams" show her softer side. On "Crumbs of Love", Menoosha whines about an abusive relationship, almost like a "female D'Angelo" (www.Soulsite.de). Finally she returns to her West African roots in an upbeat celebration with "Woyoo" and "Chamukuana".
A "Satellite Tour" is planned for this summer 2010. Starting off in Germany, France and United Kingdom. Check her sites below for updates!!
www.menoosha.com
www.myspace.com/menoosha
www.lastfm.de/music/menoosha
UPCOMING SHOWS
5 June 2010, 23:00 – Housepacific Club Tour
Kemer, Turkey
VIDEOS
http://www.youtube.com/watch?v=BUDKJkbp8K8
http://www.youtube.com/watch?v=8AimZhkTIKU
http://www.youtube.com/watch?v=6nbe-1EK_IY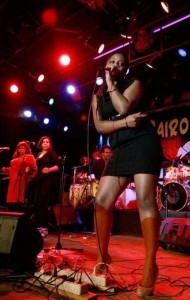 LISTEN TO "SATELLITE BROWN CHICK"
http://www.tunecore.com/widgets/show/23777
You can get Satellite Brown Chick on Amazon MP3
LISTEN TO "SATELLITE BROWN CHICK"
http://www.tunecore.com/widgets/show/23777

You can get Satellite Brown Chick on Amazon MP3
Let's support our CAMERBORN Star
Superhero feat. M anifest
[audio:http://nexdimempire.com/wp-content/uploads/Superhero-feat-Manifest.mp3]
credits:www.irepcamer.blogspot.com