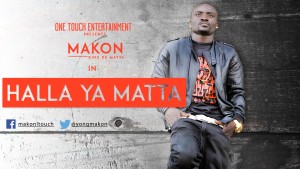 One-Touch Entertainment announces the release of Makon's debut single "Halla Ya Matta".
Yong Mark Ndi aka Makon is a vibrant singer whose first single showcases his word play and "joie de vivre". Signed to One-Touch Entertainment, Makon is ready to take on the world of Music with his firebrand style."Halla Ya Matta" is an Afro-beats induced record. Produced by Emile "Oga" Ngumbah, the music is had to resist. The beat is laced with vocals that speak of the everyday struggle of the youths (to make it in society). "…We di hustle every day…I want people to dance and celebrate when they hear this song…it's a playful dance song about struggles, success and celebration" says Makon.
Makon is currently putting groundwork towards a full-length album. "I want to make more music and I look forward to seeing how people respond to this first single."
Halla Ya Matta will be released Feb 10th 2015 and will be distributed via iTunes and other digital outlets. The accompanying video will also be released on the 10th of February, enjoy the teaser.
Follow Makon on facebook at Facebook.com/makon1touch