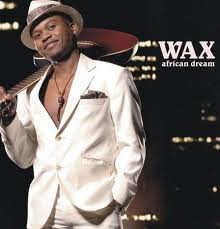 Cameroon's singer and activist, Wax Dey who is always been known as Wax  recently joined the African Magic family as presenter of Africa's biggest breakfast show "Good Morning Africa" which comes up on a daily basis on Channel 114, DSTV otherwise known as Africa Magic. He presents lifestyle and entertainment slots on the show's weekender broadcasting throughout Africa every Friday through Sunday.
Much is required from our new entertainment disher as he is expected to use his wide experience and knowledge of the African continent to transform "Good Morning Africa" into a more dashing interactive breakfast show for all its viewers across Africa and the world at large, with the French-speaking countries as his targeted audiences.
Named Man of the Month in May 2010 by American Magazine, Ladybrille for his use of music to transmit social messages and greatly admired by producers of "Planet Image" productions, the music socialite who is proud and happy to be part of "Good Morning Africa" sees his new role as a platform for him to extend those messages across a wider spectrum of Africa and entertaining viewers at the same time. He even went ahead talking about some of the already highlighted social issues greatly affecting the African continent raised by "Planet Image" CEO, Wale Akinlabi such as human trafficking and xenophobia.
IT should be noted that Wax Dey is a former brand ambassador for the City of Johannesburg, Spokesperson and communications consultant for the United Nations. In 2004, he took some time as a  writer and came out with a book entitled "The Chosen One", which was used for Grade 11 English in South African public schools. And in 2008 he worked with South African music promoter, Edgar Rathelele to establish Lolhiphop Records, a Pan-African recording and music publishing company. Worth knowing it is that Lolhiphop Records was involved in the publishing of the 2010 FIFA World Cup song Waka Waka by Columbian star Shakira, it has also released albums by a number of artists including South Africa's Rowick Deep and Nigeria's Flavour and now serves as a music promoter in South Africa.
Hey Wax NexDim Entertainment Wishes You All the Best, Go Man!!!
For more information contact: Twitter: @WaxDey 
Email:  pr@waxexperience.com or
CLICK HERE to visit the Wax Dey website.