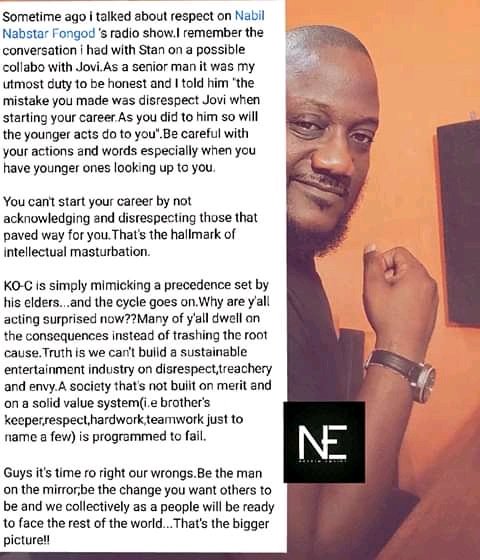 "The mistake you made was direspect Jovi when starting your career . As you did to him , so will the younger acts do to you" – Jules Nya referring to Stanley Enow.
?????
According to Jules Nya , KO-C is simply mimicking a precedence set by his elders.
He says it's time to right our wrongs and be the change you want others to be . (Details on the screenshot)
This comes after KO-C , in live video called out Stanley Enow for laughing when Davido said he knows just two Cameroonians. He sounded disparaging.
To KO-C , Stanley would've introduced the names of other Cameroonian artists.
Speculations are rife on social media that KO-C is reacting aggressively because Stanley Enow allegedly took off his name from the MTV Awards nominees list.
Stanley Enow has been silent amidst the fuss.
#nexdimempire