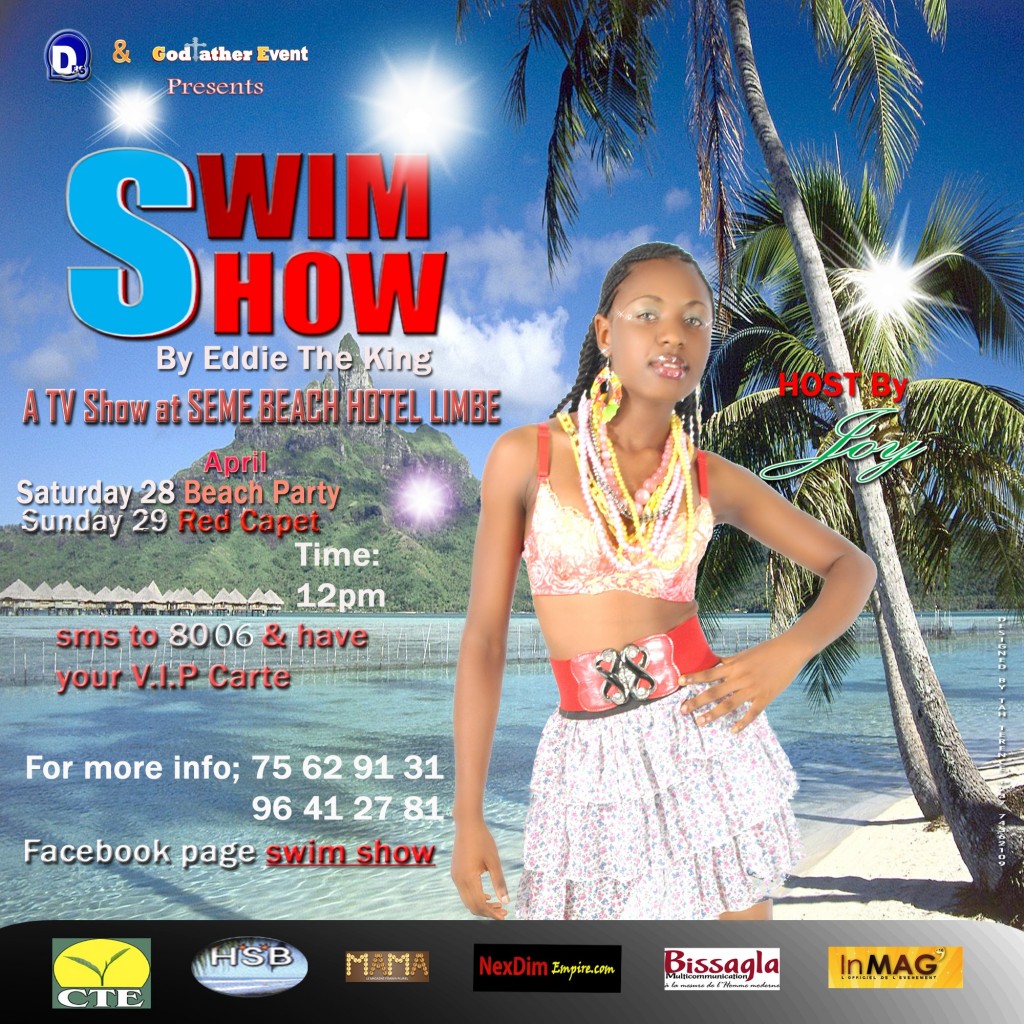 GODFATHER EVENT and DBS , Present the most breath-taking and alluring reality TV show that will cut across the national territory dubbed THE SWIM SHOW . To grab a V.I.P card which will be valid for a whole year, just send an SMS or CALL 8006 at just a 1.ooofrs. With this card you are given the opportunity to gain access to all 'Swim Show' editions organized in any part of the country.              As on Saturday the 28th of April 2012 come  join the show at Seme Beach Hotel Limbe at 12pm and enjoy pure Entertainment, the  Pool, Table Tennis, TV Games, Drinks, Beach Play, Play Back, Beauty Contest, Barbecue, stunning performances by renown budding and international artists, Street dance showcase and more. The Swim Show shall be rocked  by DJ Salas of Spyce Night Club, D.J Xavier F.X from Douala, DJ Cuts Killer of Hot 97 Radio New York, DJ Niga Logos, DJ Pintum Paris and hosted by Joy.
Don't miss coz there are lots and lots of prizes to be clinched! Proudly supported by CTE, sponsorships are still open for all interested.

Guest artists: West Don , Jay N , Steveslil, Zinnia, Dr Sley, and many more.         
For more info contact: 75 62 91 31   or   93 31 17 26
Visit swim show page on facebook
Announcement: The organizers of the 'Swim Show' are happy to announce that if you are a boy or girl with the dream of becoming a TV presenter of the biggest TV show in Africa and you live in the South west region, then you should kindly endeavour to contact 75 62 91 31 for details.
Director                                                                                                                                                        Tah Terence (T Boi)                                                                                                                                   Eddy the King