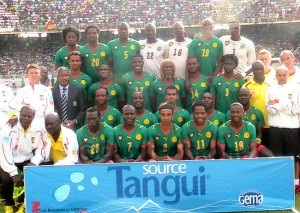 An exhibition match between the 23-man squad for the World Cup, was played today at the Ahmadou Ahidjo stadium . It was a question of the national team  to communicate with their audience , before flying to their base in Durban, South Africa . The team Captain Samuel Eto'o Fils and his teammates have actually received blessings from the home population. The event had a cultural and sporting connotation. In the morning, the Indomitable Lions had a training session behind closed doors.
The day after their arrival  in Yaounde, after an internship in Europe, the Indomitable Lions of Cameroon received  blessings from almost a hundred Bassa patriarchs  in the Centre and Littoral region; a message of blessing for Lions go to the top and bring the trophy to Cameroon ".
Explaining the symbolism of this ceremony, the spokesman of the Patriarchs, the venerable Mboma bog Ndjé Bileck, aged 97 years, said that
"it is necessary that the Lions win and the blessing of the patriarchs has its place because it comes from God. "
Before flying to South Africa on Wednesday, June 9, at 9am, the Indomitable Lions will attend an ecumenical service at the international airport Nsimalen. The Cameroonian delegation of 50 people will arrive in Durban at 15 h 30 the same day.
As participation premium in the World Cup South Africa 2010, each player received 45 million FCFA on Sunday. In case of winning, each selected player will receive 15 million fcfa.
The Indomitable Lions had hoped to see their premium contribution to be around 70 million CFA francs.
The 19th World Cup is scheduled from June 11 to July 11, 2010. Cameroon's first game in this competition will be against Japan on June 14. This will be followed by Denmark and the Netherlands in Group E.
Photos courtesy of camfoot.com