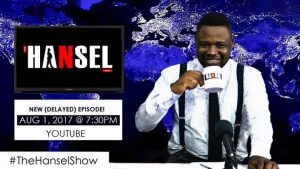 This 5th episode of the famous Hansel Show takes humorous shots at Jovi, Gasha, Rigobert Song and politics .
New Bell boss Jovi has a strong addiction for flaunting weed in his music videos. The comedian says Jovi deserves his own brand of weed called 'Joviweed" . The rapper has reacted to the video in a lighthearted manner contrary to what his fans expected. 
Gasha's obscene outfit that went viral on social media is also a subject of humour on this episode. 
Former Cameroon football team captain and current coach of Intermediate Lions Rigobert Song's seemingly unflinching support for the ruling party CPDM also ignited negative remarks on social media. 
To get the details and comic approach, watch the full video below. 
https://youtu.be/00lCz45QFcg