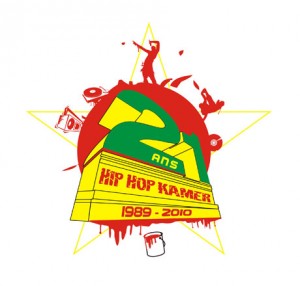 Hip Hop
started  in Cameroon in the late
'80s
with the advent of  television, and cassettes containing the audio and video tape recordings of international artists. Over time Hip Hop artists and groups started sprouting like
Serges Dipanda, Lamine, Mc Olangue, Stars System (Peckey Power), Benjo Style, Le Prophet OJ B, Bamboola Street, UMAR CVM Anonyme Posee, M.O.S, Arborigène, OAN, Bantu-Po-si, EtaaDurjaanss, Hearen States, La source, Négrissim, Brice Tedjona, K'Roz, n, Doi Hope, Protektor, Otoulbaka, Magma Fusion
and many others.
These youth groups  and artists performed  at locations like Cinema Abbia,  Capitol, the French Cultural Centre in Yaounde, the Goethe Institute, Afrikan Logik.
Most of these artists were inspired by:
MC SOLAAR, NWA, 2 PAC, NOTORIOUS BIG, Big Pun, Public Enemy, Snoop Doggy, RUN DMC, Coolio etc
which was imported music  from the diaspora .Youths immediately captured the style and metamorphosed into their look and their clothing. Some youths cultivated these looks to attract girls in colleges. This later developed from a habit to an art.
The influence of artists like Sisqo who released " Unleash the dragon" in 1999 , Usher's  "You got it bad"  and R Kelly 's  "Fiesta" influenced the trend of  R&B in Cameroon.
On the other side , there was a broad movement particularly in France with the involvement of  Cameroonians in the  Diaspora like  PABLO MASTER, MENELIK, PITT Baccardi, DJ EFFA, Kenzy, Ebongué PATOU, LACLKO, MC Tyer, MC JEAN Gabin, Layon, DRIVER ,YANNICK EFFA, NARCO, DAMON WILLIAMS and many others.
They released albums and influenced the trail of Hip Hop in France.
The late 1990's  and early 2000's saw the emergence of   artists like
Krotal
of Mapane, Bantou Clan, DJ Bilik of  ZOMLOA, Bantou Posi , Chris Badd, Roggy Stentor, Nadine Patricia and Big Bzy. Their songs received airplay on CRTV.
The greatest breakthrough I witnessed as a teenager was the release of  
Bantou Posi
's
'Ning le ning le" ,
which had a remarkable success in Cameroon in 2000-2001,
Krotal'

s

"Jamais"
and  Koppo's
"si tu voir ma go"
in 2003. Rumours say  
Tony Nobody
,  who is now a solo artist and a TV animator is one of the founding members of  
Bantou Posi
and later left the group.
Hip Hop evolved into a new breed of artists like  OSHIMIN SULTAN, Bashiru, TONY NOBODY, Boudor, AK-SANG GRAVE, MANHITHOO, LADY B, JAY N, X Maleya, VBH,FRANKY P, DANIELLE EOG, DUC-Z, Thiery Olemba and Street Thugs, Camselect, Achalle, Coresouth, Zionside, Spirita, Black LM, M-Thugs, Steveslil, Sley, La Choice, Denzyl, Big G, Chillen Muzic, and more in English Cameroon.
In same time frame, we have Cameroonians making waves in UK,USA and across Asia like Andy Allo, Sona the Voice, Dieverse Da Boss, Naomi Achu, Eddy B, Tayong Tyn, Da Duce, Luxland, Master Supreme, Markynaze, and many more.
Time is ever-changing . The evolution continues !!