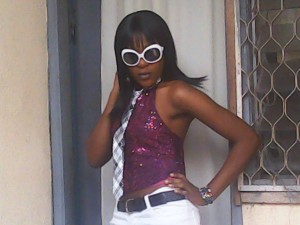 Cameroonians are talented. 
ZITA ALIAH A.K.A Daughter of the Most High ,
born on the 9th of August, 1986 . She is a musician, actress, a presenter and a writer. When we asked her  about her music she told us she is into
moral and gospel rap.
Presently, she has an album titled "
Town".
It was so interesting to hear that she writes these songs herself. The album is in the market and it is made up of five tracks.
As an actress, she has played lead roles in two films which are yet to get into the market.
She has worked with
Mount Cameroon FM
as  presenter of the program
Hip Hop groove
in 2009/2010. She is currently working with
Hi TV
as presenter of the program; 
Fashion and beauty
.
In her own words, this is how she describes her career:
"During my leisure periods I watch entertainment programs on TV, I sing and swim.
As an artist in Africa and Cameroon in Particular, I have faced challenges from my family that is, they don't want me to pursue my talent. To them nothing good can come out of it, and again the greatest part of it is sponsoring the project financially, for example I have a project at hand with no sponsor, so it is really challenging and in addition discouraging.
My advice to all my friends with talent is this, don't give up though the growth of the industry is slow especially the movie industry in Cameroon, so let's put our hand on deck and make a change.'
We can. I love you all."