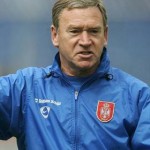 After Cameroon's debacle at the World Cup in South Africa due to Paul Le Guen's inability to maintain discipline in the squad, there was dire need for a new coach to bring serenity, sanity, victories and regain the stripped off reputation. The Cameroon Football Federation , FECAFOOT may have chosen Spanish Javier Clemente to do this job but his appointment has inflamed mixed feelings across the entire nation of Cameroon and former internationals. The newly appointed coach therefore has an arduous task to revert our failures and restore our trust.
Cameroonian names like Francois Omam Biyik, Akono, Patrick Mboma were initially short-listed to handle the job but to my greatest dismay, Francois Omam Biyik was retained only as assistant coach.

Why not appoint a Cameroonian to coach  the Indomitable Lions ? Is the trending question amongst Cameroonians.

I   sometimes wonder if the ingenuity to coach the Cameroonian squad exclusively belongs  to  European coaches.
A local coach like Akono disproved this myth in 2000 when he won the Olympic Games 2000 in Sydney as coach of the Under 23 National team.
Jacques Songo who was appointed as interim coach for the international friendly against  Poland thrived with his tactics and  also made us believe a local coach can handle the job even better by crushing Poland by 3-0 in Szczezin on the 11th of August.
Eugene Ekeke, a former professional in France and member of the 1990 glorious squad, who also has the highest coaching diploma offered by the French Football Association told SuperSport.com:  "It's a big disappointment for me. I believe that after decades of hiring foreign coaches to train the national team, Cameroon has the people who can do the job.
We have a lot of former players, both at home and abroad, who have the profile and necessary experience to train the Lions of Cameroon, so I don't see why we have to go searching for foreigners every time."
But another point of view is,  if a local coach is appointed, what will be Cameroonians' reaction if the local coach loses matches ?. Let's remember what happened to Wome Nlend when he missed a penalty that had to qualify Cameroon for the Germany 2006 World Cup. He received all kinds of death threats and that was the end of his career with the national team. What then will be the fate of a local coach who permanently resides  in Cameroon ?