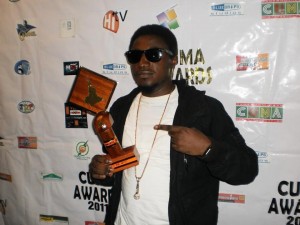 Steveslil (Njang Stephen Mbu)  is a Cameroonian R&B, Afro pop and Hip Hop artist, songwriter , producer, and entrepreneur .He was born on December 25th  in Nguti , South West Cameroon and raised in Buea where he currently resides .
Steve was raised in a typical Presbyterian family massively influenced musically by his mother and dad who were both choir leaders and music composers.
During his Secondary school days at Presbyterian Comprehensive Secondary School Buea, Steve was a member of the acapella band ''Boyz On Zion'' highly reputed for composing a sizzling version of ''Pilgrims may we travel with you'' which proliferated to most Presbyterian Colleges .He  garnered fame on campus as a seasoned singer and comedian. He was winner of several arts and dancing competitions organized around the Buea vicinity.
With the resurgence of contemporary R&B artists like Sisqo, Usher, R Kelly, Matt, N'synk , Brandy, Monica and Destiny Child in the 90's , Steveslil developed penchant for R&B and soul and started penning his own lyrics.
In High School, CCAS Kumba, Steve lost his inspiration when he drifted concentration on grappling with academics. After obtaining his Advanced Level in 2003, he enrolled in Universityof Buea to study Law.
In the course of his studies, he joined a Hip Hop group called CORESOUTH composing C-Hill, Trano and Nais G. He later became the CEO of CoreSouth Records. The group speedily gained fame on University campus, highly solicited to perform during Nites and Concerts. In 2005, the group was nominated to represent the South West Region at the Nescafe African Revelation (NAR) inDouala.
The group dissolved in 2006 and Steve decided to have a solo career.
Steve graduated from the Universityof  Buea with an LLB and dived into a search of a job to pay his bills as music was more of fame and no money. He worked with CREACOM Douala as Artistic Director and later resigned the job due to meager pay .
In 2007, he returned to Buea where he was instigated by his former band mate and friend C-Hill to start recording ''Play my Tambourine'' at Chillen Music studios. 10 songs were recorded and the videos of ''Play My Tambourine'' and ''Suzzy'' directed by his friend Mambe Churchill (C-Hill) were premiered on STV, Canal 2 , and other local channels in Cameroon.
In 2008 he released ''I can'' featuring Adjusta which aired on TV channels in Cameroon but had no immense impact.
In 2009, NexD im was nursed by Steve and his friend and entrepreneur Churchill Mambe with the objective of exposing, and marketing Cameroonian entertainment products. www.nexdimempire.com rapidly attracted attention and buzz, rated as one of the most visited Cameroonian entertainment blogs. He was appointed CEO of NexDim in April 2009.
Steveslil released ''Cameroonian Dream'' with Kora Awards nominee and Star de Demain laureate which was a video compilation .
He performed at the ''Off the Wall'' Tour  with US based Cameroonian artist SONA THE VOICE organized by Intercession Records in November 2009.
In 2010, Steve was part of the organizing crew of the maiden edition of a Gospel Talent TV show dubbed GOSPEL MUSICAL aired on national TV channel CRTV.
He released a Cameroonian version of T-Pain's ''Buy u a drank'' which he translated to pidgin as ''Buy u shack' which received a warm embrace from fans across the world.
In September 2011, Steveslil was invited byRocanegra AB for a music Tour inSweden. There he worked with refined producer Simon Tocclo .
In Finland, he performed alongside Samy Diko at the Cameroonian Party for Charity inFinland.
Steveslil returned to Cameroon after his tour in Europe and released a brand new single ''Panjo'' produced by 18 year-old Deecy . It is currently a buzz.
Steveslil has shared the stage with Samy Diko, Sidney, X Maleya, Krotal, Bantou Posi , Petit Pays, DJ Kaloudji etc.
In December 2011, Steveslil clinched CUMA Awards 2011 for Best R&B artist.
CUMA Awards' Best RnB artist Steveslil  acclaimed for his song "Panjo" is still bent on making hits that will print an indelible mark. "Ngutiboy" is presently working on his new single "I go marry u" with Trackzone's magic fingers DJ Zee. 
"Panjo Master" album shall be released on a date to be decided by NexDim
DOWNLOAD "PANJO" BELOW:
http://www.supashare.net/t5wm07zl0ipu