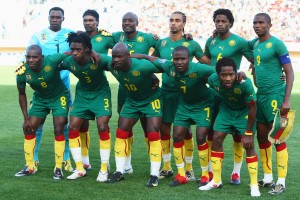 The Indomitable Lions will commence training on the 20th May 2010.The final official list of 25 players shall be published on the 1st of June 2010.
The 30 shortlisted players will on Thursday gather  in Paris in a hotel near the 
Roissy Charles De Gaulle
airport . Departure for Austria is scheduled  for 14:30.
From May 20th  to 30th, the Indomitable Lions will establish their neighbourhood in
Linz.
On May 25th at 18:30, a friendly match is scheduled against
Georgia
which will enable the National coach Paul Le Guen to judge the group  before the second meeting against 
Slovakia
. The match starts at
2:00 p.m.
local time.
On May 30th, the Cameroon national team will fly to Portugal where she will spend three days in Covilha.
On 1st June, the preselected players shall play against
Portugal
at 19.30 in Covilha.
In the evening, Paul Le Guen will publish his list of 23 to participate at the World Cup.
On June 2, the lions leave Portugal for
Serbia (Belgrade)
, where they remain until June 6, when they will play a  friendly match against
Serbia
(20:30) in Belgrade. Just after the friendly match, the Lions will fly to Yaounde where an exhibition match will be presented June 8 at the
Omnisport Stadium in Yaounde
(16:00). The day before,
Paul Le Guen
will have a press conference at the Yaounde Hilton (1700).
The departure is scheduled for
Durban
on June 9