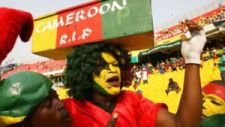 The Cameroonian community in Capetown, South Africa has been in serious crisis since the 24th of June when Cameroon lost to Holland 2-1. The center of discussion is the 2 million CFA and 61 tickets that was given to the president of the Cameroonian community , Ashu Lucas for the support of the Indomitable Lions and celebrations in case of victory. He is blamed for the violence that ensued in Capetown that night which left many wounded and mass destruction in a club belonging to a Cameroonian; Lotin Ebai.
According to information gathered from other units and within the Cameroonian community in Cape Town, the acts of violence recorded in the night of Thursday 24 to Friday, June 25 between the Night Club are the result of  the President of the Community Ashu Lucas and his collaborators Epie Ivo EPAM and Esther Kunya not  being transparent in the management of money given to the Cameroonians in Cape Town by the Cameroon government.
"From the start, when they receive this money and tickets, they did not tell  anyone. They did not give us the tickets at the stadium, they said they will present 61 priority to the presidents of associations in each area. It is when we went to the authorities that they told us that they have given this money to our leaders.  Lucas Ashu admitting in embarrassment, told us that his followers have decided that this money will be used for food and drink from community members after the game in the nightclub of his younger brother Lotin Ebai. We accepted anyway. But when we arrived in the night club, we were informed that food and drink are to be sold. Asked about the 35,000 rand received from the government, Lucas Ashu said nothing good. We asked him to provide money for sharing as it was not used to buy food and drink. He started resisting as everyone revolted and there was  violence, " explained the a Cameroonian.
Many of these Cameroonians portray that  their fear of the mismanagement of funds by Lucas Ashu and his collaborators  is based on deeds recorded in the past. On several occasions, they argue, Ashu Lucas and his cronies have not accurately reported the management of funds raised for the funeral of any fellow Cameroonian who is killed in Cape Town and for rejoicings on national holidays in Cameroon. Regarding the 35,000 rand given by the Cameroonian government Thursday, June 24, Cameroonians in Cape Town are determined to bring Lucas Ashu to share the fairly.
"We'll have that Cameroonians in Cape Town also believe that the damage caused in the nightclub Lotin Ebai must be repaired by this money," says Lucas Ashu .