A gifted MC from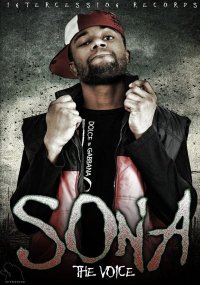 Milwaukee by way of the West African country of Cameroon, Sona, the Voice, proves that good hip-hop can come from any city, town, or village on the globe.
Sona's journey to the US explains his drive and politically conscious lyrics. His father left West Africa before Sona was born to pursue a career in the US, leaving him with a childhood surrounded by poverty, misery and crime.
At 12, Sona was introduced to hip-hop through a bootlegged version of Tupac's, 2Pacalypse Now, and discovered his own innate talent for rap after freestyling over Sega Genesis instrumental music. Sona earned a rep as one of the best MC's in Cameroon and an offer for a record deal at 17, which he had to turn down in favor of an opportunity to move to the United States to join his father.
Sona settled in Milwaukee and enrolled at the University of Wisconsin. To pursue his dream of becoming a recording artist, Sona founded his own label, Imperial Records, and produced then later released his debut album Man in the Mirror. His first single "Dreams," climbed to the #2 spot on the CMJ new music report for the hip-hop genre upon its release and was spun on college stations across the country.
In 2008 Sona changed his label name to Intercession Records and began recording his second album, Afrikan Juju, on which Sona gives voice to the struggles of blacks in both America and Africa. Produced almost entirely by Sona and featuring up and coming Milwaukee MC Emphasis E., Sona recorded his latest album with focus on the realities of life.
Last year, Sona also shot and released an homage to his favorite rapper, a documentary called "Behold Something Bigger than Tupac" (www.biggerthantupac.com).
Sona's goal is to bring about a positive change in the Milwaukee hip-hop community and help the scene achieve national recognition. His latest record, African Juju, is set for a June 25, 2009 release.Sona is also planning a nationwide tour in Cameroon after summer.
www.myspace.com/sonathevoice