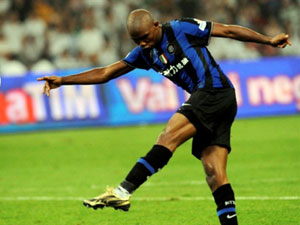 Samuel Eto's Inter Milan 1-0 at Siena confirmed their fifth consecutive Italian title with Roma finishing behind the Nerazzurri for the fourth time in five years. Inter now move on to next weekend's Champions League final in Madrid, where both them and Germany's Bayern Munich will be competing .
May 16, 2010 – Internazionale took the second step toward a treble with their 1-0 win at Siena on Sunday, securing their fifth consecutive Serie A title.
Diego Milito's 57th minute goal gave the reigning champions a 1-0 lead at relegation-destined Siena, thwarting the hopes of Roma supporters who saw their team take a 2-0 win at Chievo, putting the Giallorossi in position to overtake the Nerazzurri atop the Serie A.  Inter had entered the season's final match day with a two point lead over Roma, with the Rome-based club holding the tie-breaker.
Should Inter's nil-nil draw with Siena have persisted, the teams would have finished the season with 80 points each.  Milito's goal –  a right-footed finish from the center of the area – gave Inter the lead in a match where they had controlled much of the play.  At match's end, Inter had outshot Siena 26-6, holding 73 percent of the game's possession.
Inter finishes the season with 82 points, leading the league in both goals scored and fewest goals allowed, but their two point margin of victory was eight less than last season, when Juventus finished second.  It was the fourth time in five years Roma finished second to Inter, the two point margin behind the thinnest in Inter's five year Serie A reign.
Milito's strike against Siena