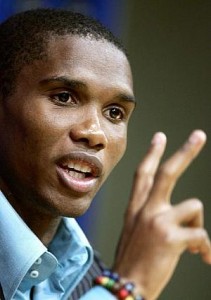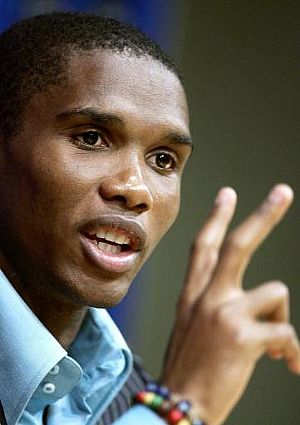 Dear brother,
I write these few words because you had to ask  questions while watching television these last three days. You had to express legitimate feelings, confused and worried by listening to comments from various media, you may be shocked or disappointed, you're on the sidelines. I had to, so that only what I tell you is what I have said, to  clarify my position.
In my childhood, my room was adorned with posters of football players who I wanted to look like. The largest poster that was above my bed was that of Roger Milla. I said in my dreams at the time, "if I have to look like a footballer, I should be like the great Roger. I even happened to write "Milla" with a marker on the back of my t-shirts, like many other children in early 90s.
The passing years have helped me get closer to my childhood idol. But the years have unfortunately also contributed to fading out and even denting the image I glued above my bed. I gradually found with my adult eyes  a very different person and my childhood dreams have gradually transformed into disappointment and disillusionment in the light of certain facts which I do not want to return to.
I just want to make it clear to all who love our beloved country, we her children, have a duty to build and leave the future generations in better condition than what we have found. In our specific area of football, we are constructing a building that shall one day either take our country on the highest step of the  world. This will be done over generations.
Georges Goethe who brought the first soccer ball in Cameroon, acquired the land. Ntone Rudolph, Omgba Zing, Martin Tobias Mimbo, have cleared, Mbappé Lepe, Mbete Isaac,  Fobeté Raymond, Oyono COGEFAR laid the foundations, Mbida Arantes, Thomas Nkono, Michel Kahama, Joseph Antoine Bell, Roger Milla, Theophile Abega, Omam Biyick built ground floor, Patrick Mboma, Geremi Njitap, Rigobert Song, Pierre Wome, Achille Emana, Samuel Eto'o and many more are about to complete the first floor, and future generations will continue the work.
Football is a collective game. Each teammate contributes in the game. To score goals, I rely mostly on my teammates who I will serve the ball in ideal conditions. After that, the goal is for  the team, and because the team represents the country, the goal is for the country. That's why the score of matches is given as  "Cameroon beat Togo by 3 goals to 0" and not as "Makoun and Eto'o beat  Adebayor and Agassa."
Those of you who watched the end of the season in France were certainly struck by one fact: The day the Marseille had to present the  championship trophy to the public in France, the  most visible flag was Cameroon's , brandished by Stephane Mbia. I felt great pride. This gesture of my younger teammates alone shows that we take our country at heart and all our victories in club or national team are all wins for Cameroon. Because we know we carry a part of your pride that Benoit Assou-Ekotto, Achille Emana, Jean Makoun, Alex Song and many others have at their wrist colors of Cameroon when they play with club sides . It is for the same reason that Samuel Eto'o is draped in the colors of our country to celebrate his victories in the European Champions League before the cameras of the world. Whether in club or national team, we take our country in our hearts, for being Cameroon is a privilege.
Dear brother, I would end this little letter, by telling you this: Listening to the comments that have been held against me, saying explicitly that I had never brought anything to my country, nor an Olympic gold medal or two African Cup of Nations nor a record of goals in the final phase of CAN, or the record for most goals in the national team, nor a foundation designed to train young people, and a few Ballon D'or Africain or anything else,frankly,  I  was thrown into disgust and for  once uncertain about all future competitions. But many fellows  like you called me, reminded me that I represented something great for them, told me the last night of the finals of the Champions League and the streets of our cities were as empty as when the National Team plays. Then I saw this picture of me wearing the flag of Cameroon on my shoulder last May 22 in Madrid after the victory in the European Cup, and I realized that the defense of the three colors of this flag there was a something exciting and compelling. I'm going to the World Cup because I love Cameroon, above all, because I know that you count on me and because I have the patriotic duty to assume my role as captain, even amid the storm.
Someone told me the other day when he arrived in some countries it is easier to explain your origin by saying "I am from the country of Roger Milla" or "I am from the country of Samuel Eto'o . Despite all, we are ambassadors of Cameroon. We respect that status at all times keeping the elegance and dignity recognized the diplomatic corps.
Thank you for giving me your attention.
Eto'o