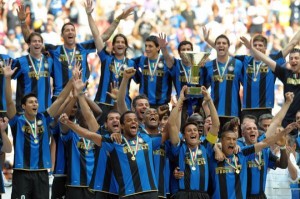 Inter Milan is champion of European soccer for the first time in 45 years and appears about to lose the coach who ended the long wait.
Diego Milito scored a goal in each half to lead Inter over Bayern Munich 2-0 Saturday night, making Jose Mourinho just the third coach to win the European title with two clubs.
Mourinho, the self-proclaimed "Special One," said after the game he is likely to leave to become coach of Real Madrid.
"This makes me feel really sad," Mourinho said. "I've become part of Inter's history and I don't want to talk about anything else. If I talk about it, I'll cry, and I don't want to do that."
In the first Champions League final played on a weekend, Milito scored in the 35th and 70th minutes at Real Madrid's Santiago Bernabeu Stadium to give Inter its third European title, following back-to-back wins in 1964-65. Inter completed an Italian treble following victories in Serie A and the Italian Cup.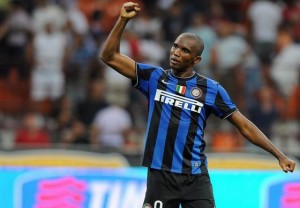 Inter forward Samuel Eto'o became a European champion for the second straight season after winning with Barcelona last year.This makes it the third Champion league title the Cameroonian is winning.
Milito scored the first goal following a long kick upfield by Inter goalkeeper Julio Cesar. Milito headed the ball on to Sneijder, who returned it immediately with a superbly accurate pass through the defense. Milito held off a defender before beating goalkeeper Joerg Butt from 12 yards, sparking wild celebrations among the Inter fans at the other end of the stadium.
Inter doubled the lead when Eto'o's pass found Milito on the left and the forward twisted past Daniel van Buyten before shooting inside the far post in front of the Inter fans.
some excerpts courtesy of  http://sports.espn.go.com